Vivre dans une Cité Radieuse
Response to the Minister of Health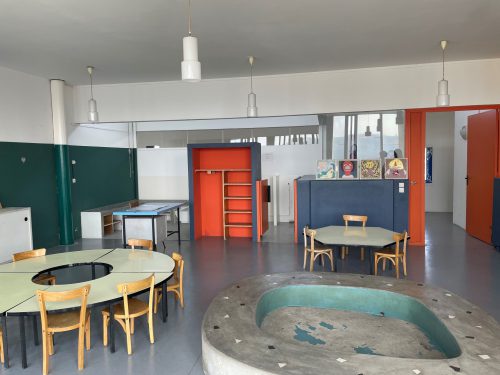 The Foundation wishes to relay the response sent by the European Federation of Associations of Inhabitants of Le Corbusier Units to the French Minister of Health, Olivier Véran, who declared on April 18 on the LCI channel: "I agree with you that the HLM towers of the 60s and 70s, the buildings, the Le Corbusier model of the airlock to enter the cities… we are going to park people, almost by nationality, is a model that does not allow us to achieve republican meritocracy and that does not allow people to rise in society".
Firminy, April 20th, 2022

Dear Minister of Health,
You took part in a debate with Mr. Bardella on the LCI channel on April 18, 2022. On behalf of the Fédération Européenne des associations d'habitants des Unités d'Habitation de Le Corbusier, which I have the privilege of representing, I would like to bring to your attention a few points to help you avoid confusing "cités" with "cités et maisons radieuses de Le Corbusier".
I'll leave it to the experts in architecture and heritage to tell you how Le Corbusier designed his 5 unités d'habitation, structuring his approach around "living together".
Today, some 4,000 people live in our buildings. All socio-professional, religious and cultural categories are represented. We're a long way from the image you wrongly portrayed during the debate.
Our homes have been designed to provide a real sense of privacy, space, comfort and luminosity, each with its own particular layout, while at the same time sharing activities. Preschools are the best example of this.
We'll soon be sending you a copy of our first issue of a magazine written by the residents and for the residents of all our units.
If you have the opportunity to come and meet us at Le Corbusier's first European site, in Firminy near Saint Etienne, we'll be honored to present a beautiful photographic exhibition called Unité(s) d'intimité. You will be able to appreciate the well-being of the inhabitants of our buildings. It will also be an opportunity for you to see for yourself how our spaces have been designed to make them pleasant to live in.
Please accept, Sir, the assurance of my highest consideration.
For the Fédération Européenne des Associations d'habitants des unités d'habitation Le Corbusier, its president, Fabrice Brault.