Centre Scientifique de la Main d'Œuvre (Work Force Research Centre)
Paris, France, 1938 - Demolished
Commission
Placed under the dual patronage of the Minister of Labour and the Seine Département, the Centre Scientifique de la Main d'Oeuvre was one of the first major initiatives devoted to combating unemployment. It was managed by the "Centre d'Etude du Travail" (Work Force Studies Centre), an association directed by Philippe Serre, former Under-Secretary of State for Labour.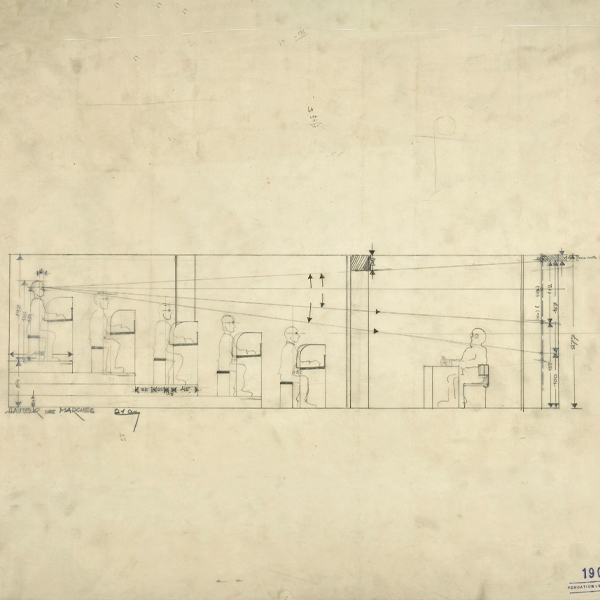 Project
In 1938, Le Corbusier was commissioned by the CET to redevelop the former premises of France Mutualiste on Square Jean Thebaud in Paris (between 24 rue de Cambronne and 13 rue Paul Chautard in the 15th arrondissement). The building, which extended over two perpendicular wings, was made up of a ground floor and an upper floor.
The ground floor consisted of a large reception room in the centre, with the administrative unit on the left-hand side and the medical unit on the right. The first floor consisted mainly of rooms used for tests and "psychotechnical" examinations. In the left-hand wing could be found the "collective" examination room containing five tiered rows of four seats each.
This project did not benefit from a large budget, and indeed the architect immediately offered a reduction in his fees. Even if Le Corbusier was keen to reduce costs, he took care to opt for soundproof partitions, as evidenced by numerous plans and notes. In November, the final plans were approved. Also  for economic reasons, Le Corbusier felt obliged to use "gaboon" (mahogany) for the wood veneers, but he considered this type of wood "old-fashioned and atrophied". He then asked Joseph Savina (the sculptor from Tréguier with whom he was later to make his sculptures) to improve the aesthetic rendering of the wood veneers. In a letter written to stimulate him, he explained that this needed to be done "for the sake of the fatherland"!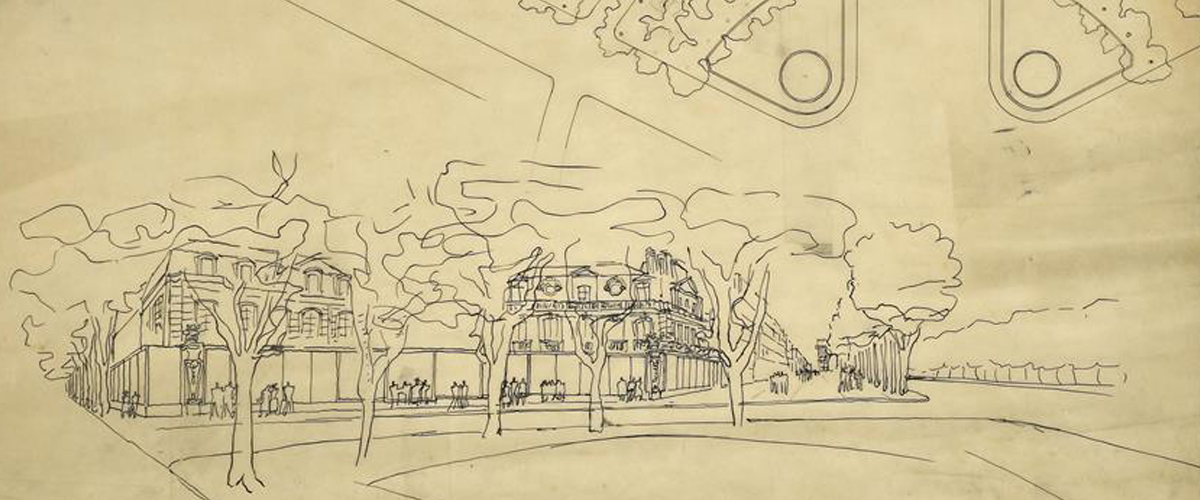 Subsequent history
This building was subsequently demolished.
Centre scientifique de la Main-d'oeuvre, Paris
© FLC/ADAGP

Centre scientifique de la Main-d'oeuvre, Paris
© FLC/ADAGP

Centre scientifique de la Main-d'oeuvre, Paris
© FLC/ADAGP

Centre scientifique de la Main-d'oeuvre, Paris
© FLC/ADAGP
Centre scientifique de la Main-d'oeuvre, Paris
© FLC/ADAGP

Centre scientifique de la Main-d'oeuvre, Paris
© FLC/ADAGP

Centre scientifique de la Main-d'oeuvre, Paris
© FLC/ADAGP

Centre scientifique de la Main-d'oeuvre, Paris
© FLC/ADAGP