Le Corbusier's Grave
Roquebrune-Cap-Martin, France, 1958-1965
Commission
After the death of his wife Yvonne, on October 5, 1957, Le Corbusier applied himself to a project for a grave to accommodate them both. He chose the cemetery of Roquebrune Cap Martin, the village in which he had built the Cabanon, his "château".
Project
On March 25, 1958, Le Corbusier obtained from the mayor of Roquebrune a thirty-year concession for plot J, Nos 3 and 4, measuring 4 sq m.
Le Corbusier called on his friend, the carpenter Charles Barberis, to make the grave. Barberis assembled the formwork and the mason Salvator Bertocchi made the cement-stone slab. The enameller Jean Martin was given the job of making two white enamel plates. Yvonne's epitaph was painted on the lower plate, which Le Corbusier enlivened with blue, to suggest the sea. When the architect died, the upper plate would be replaced by another, coloured yellow and red to suggest the glowing sunlit sky.
"I have created a design for a tombstone bearing a prismatic protrusion 53 cm high × 43 cm wide, sloping down from 53 cm at the top to 10 cm at the bottom. This protrusion is therefore 70 cm long and 43 cm wide. Since my wife's ashes are to be placed in it, it will serve as closure."
Le Corbusier au Maire de Roquebrune Cap Martin, le 16 mai 1958.
On the side of the "protrusion," Le Corbusier fashioned a cylindrical vase recalling his Purist compositions of the twenties at the same time as adding geometric complexity to the construction. The slab was hollow, so as to leave enough space for plants. Finally, Le Corbusier made on the slab an imprint in the shape of a shell, inlaying it with Yvonne's bronze cross.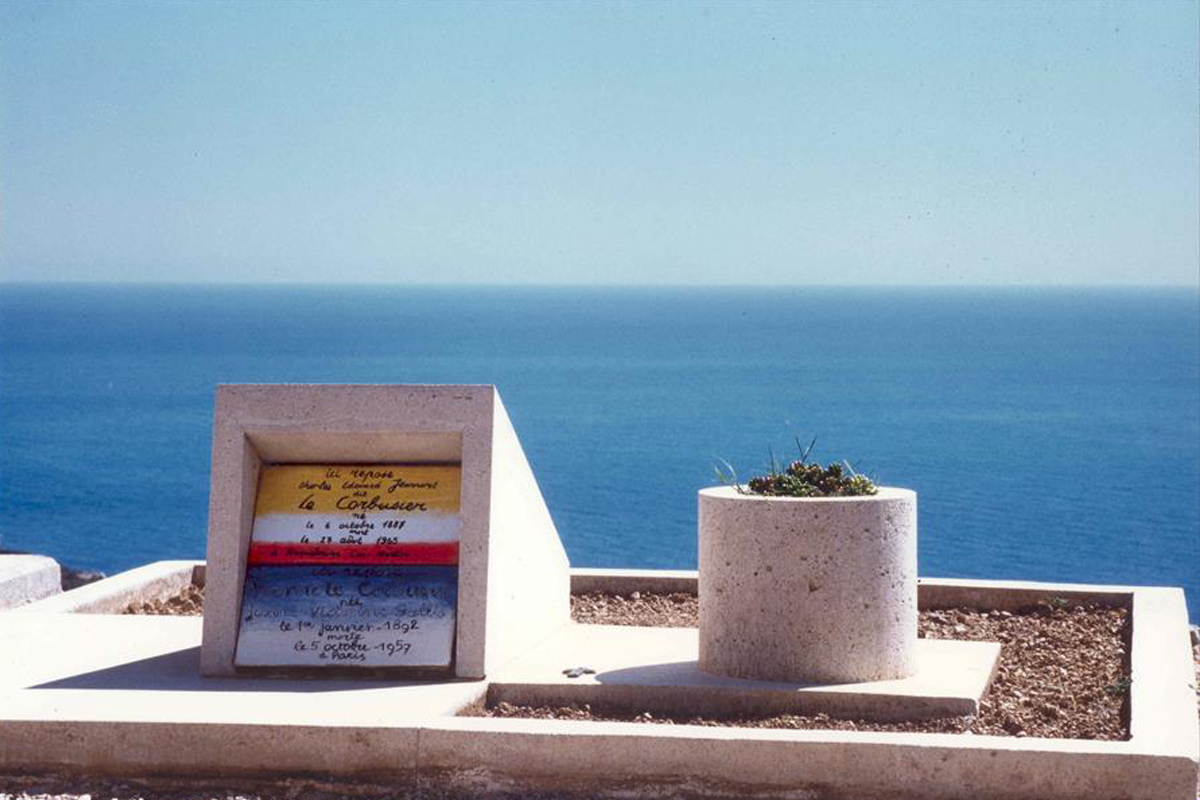 Subsequent History
The tomb is not protected, but benefits from the Remarkable Contemporary Architecture label and is included in the buffer zone of the Cabanon, a component of the Transnational Series inscribed on the World Heritage List "The Architectural Work of Le Corbusier."
It faces the Mediterranean Sea, on the very spot where the architect died from a heart attack on August 27, 1965. As Le Corbusier insisted at the time of Yvonne's death, the tomb is to be appreciated "without flowers or wreaths".
Tombe de Le Corbusier, Roquebrune-Cap-Martin
© FLC/ADAGP

Tombe de Le Corbusier, Roquebrune-Cap-Martin
© FLC/ADAGP

Tombe de Le Corbusier, Roquebrune-Cap-Martin
© FLC/ADAGP

Tombe de Le Corbusier, Roquebrune-Cap-Martin
© FLC/ADAGP

Tombe de Le Corbusier, Roquebrune-Cap-Martin
© FLC/ADAGP

Tombe de Le Corbusier, Roquebrune-Cap-Martin
© FLC/ADAGP

Tombe de Le Corbusier, Roquebrune-Cap-Martin
© FLC/ADAGP
Tombe de Le Corbusier, Roquebrune-Cap-Martin
© FLC/ADAGP

Tombe de Le Corbusier, Roquebrune-Cap-Martin
© FLC/ADAGP

Tombe de Le Corbusier, Roquebrune-Cap-Martin
© FLC/ADAGP

Tombe de Le Corbusier, Roquebrune-Cap-Martin
© FLC/ADAGP

Tombe de Le Corbusier, Roquebrune-Cap-Martin
© FLC/ADAGP

Tombe de Le Corbusier, Roquebrune-Cap-Martin
© FLC/ADAGP

Tombe de Le Corbusier, Roquebrune-Cap-Martin
© FLC/ADAGP