Émile Cornebois, la Maison Citrohan, d'après Le Corbusier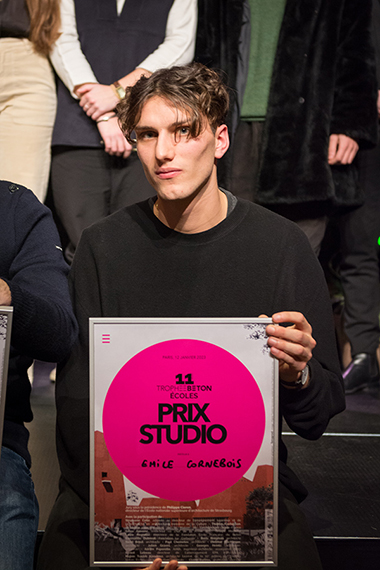 Jury rewards a Corbusian project
Emile Cornebois, winner of the eleventh edition
On January 12, the Maison de l'Architecture d'Ile-de-France hosted the final jury for the Trophée Béton, chaired by Philippe Cieren, Director of the Strasbourg School of Architecture. The competition, of which the Fondation Le Corbusier is a partner, is organized by Bétocib, CIMbéton and the Fondation École Française du Béton, under the patronage of the French Ministry of Culture, in partnership with the AAIIA association.
Of the 114 projects submitted, 12 were selected: the candidates defended their work before a jury composed of personalities from the worlds of architecture, engineering and education.
Émile Cornebois, a Licence 3 student at the École Nationale Supérieur d'Architecture de Lyon and the École Centrale de Lyon, won the Trophée Béton Studio for his project based on Le Corbusier's Maison Citrohan.
He presents his project as follows :