WHAT IF ?
Ludovic Nkoth à la Maison La Roche
October 17 to November 25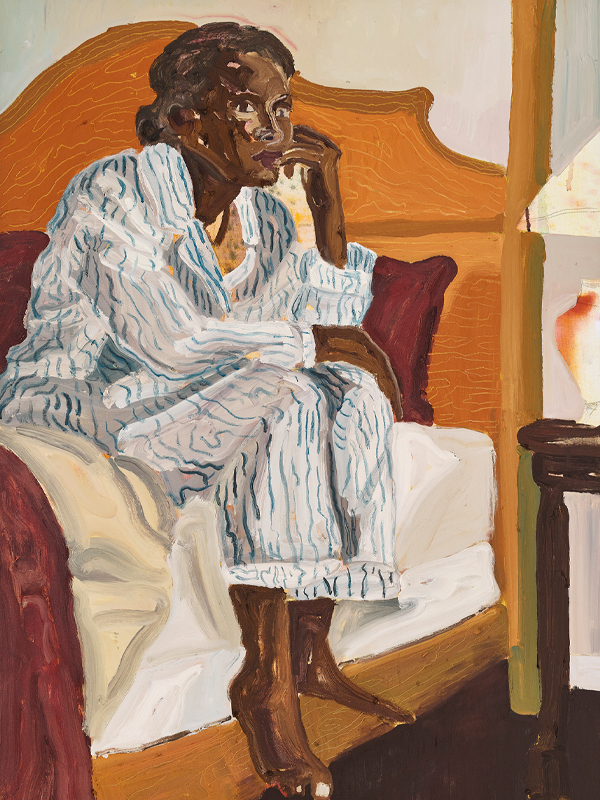 WHAT IF, the artist's first solo show in a Parisian institution
An exhibition in collaboration with MASSIMODECARLO gallery
Ludovic Nkoth delved into the archives of the Fondation Le Corbusier, particularly fascinated by the relationship between the architect and the collector. What if Raoul La Roche had come across Ludovic Nkoth's work? What if a family lived in the house? What if we reconsidered the very notion of home? What if the artist could talk to Le Corbusier?
Playing with our expectations, Ludovic Nkoth is particularly interested in the question of context, the reciprocal influence between the work of art and the iconic place that houses it.
Maison La Roche offers an "architectural promenade" that invites visitors to move freely from one volume to the next: in each room, from the entrance hall to the purist bedroom, Nkoth's paintings insert themselves into the space of imagination and possibility, encouraging visitors to explore the encounter between artistic visions and architectural notions, to consider the "what ifs" that emanate from this project.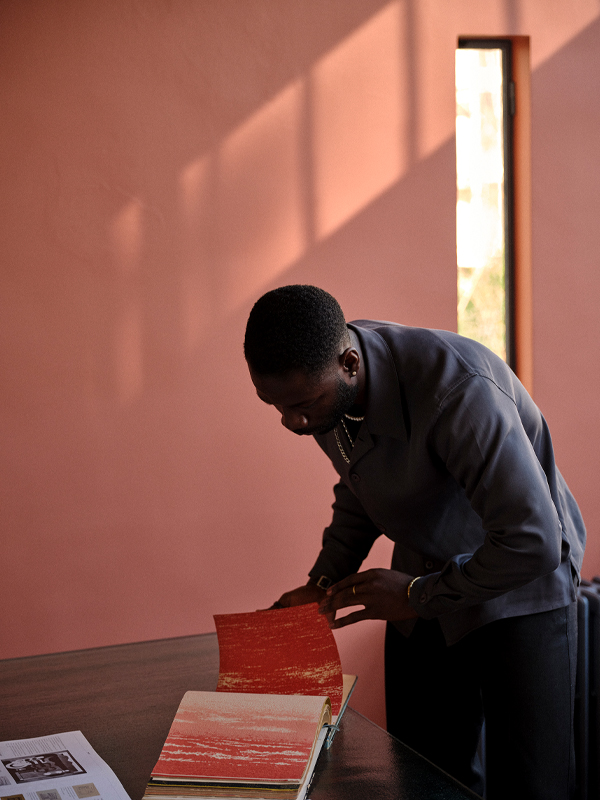 Ludovic Nkoth
Born in Cameroon in 1994, Ludovic Nkoth moved to the United States at the age of 13. He now lives and works in New York. His artistic creations combine his family heritage, diasporic life and Cameroonian social and political issues. Each of his portraits is a gateway into a world of colors and textures. Ludovic holds degrees in Fine Arts from the University of South Carolina and Hunter College in New York.
Read the Financial Times interview with Ludovic Nkoth in this article.
© FLC / ADAGP /Thomas Lannes / Courtesy

© FLC / ADAGP /Thomas Lannes / Courtesy

© FLC / ADAGP /Thomas Lannes / Courtesy

© FLC / ADAGP /Thomas Lannes / Courtesy MASSIMODECARLO

© FLC / ADAGP /Thomas Lannes / Courtesy MASSIMODECARLO

© FLC / ADAGP /Thomas Lannes / Courtesy MASSIMODECARLO

© FLC / ADAGP /Thomas Lannes / Courtesy MASSIMODECARLO

© FLC / ADAGP /Thomas Lannes / Courtesy MASSIMODECARLO
© FLC / ADAGP /Thomas Lannes / Courtesy

© FLC / ADAGP /Thomas Lannes / Courtesy

© FLC / ADAGP /Thomas Lannes / Courtesy

© FLC / ADAGP /Thomas Lannes / Courtesy MASSIMODECARLO

© FLC / ADAGP /Thomas Lannes / Courtesy MASSIMODECARLO

© FLC / ADAGP /Thomas Lannes / Courtesy MASSIMODECARLO

© FLC / ADAGP /Thomas Lannes / Courtesy MASSIMODECARLO

© FLC / ADAGP /Thomas Lannes / Courtesy MASSIMODECARLO