Maisons Jaoul
Neuilly-sur-Seine, France, 1951-1955
Commission
André Jaoul, the client for this project, had been in contact with Le Corbusier since 1937 for the construction of a weekend house, which was never actually built.
In 1951 he recontacted  Le Corbusier for a new  two-family project. This was planned on a plot in Rue de Longchamp at Neuilly-sur-Seine. Le Corbusier quickly abandoned the idea of a single house and proposed building two adjoining separate houses, referred to as 'house A' for the parents and 'house B' for the children.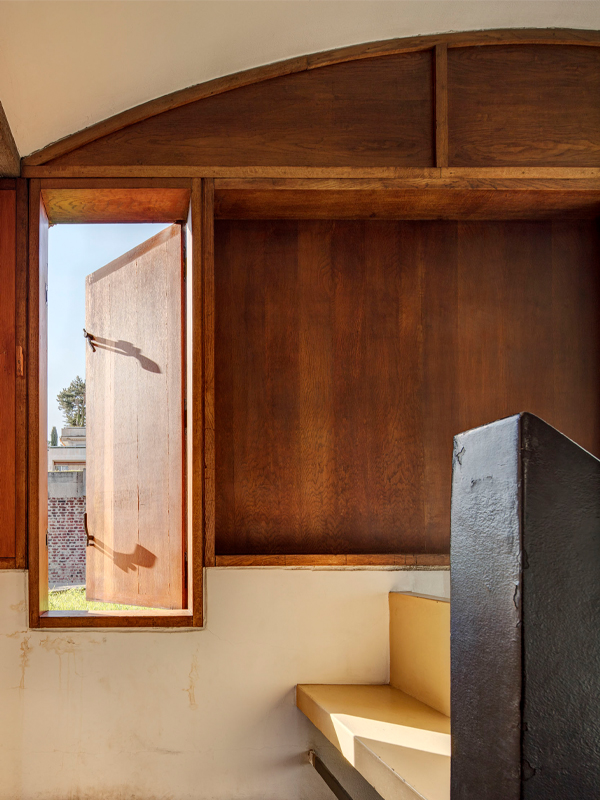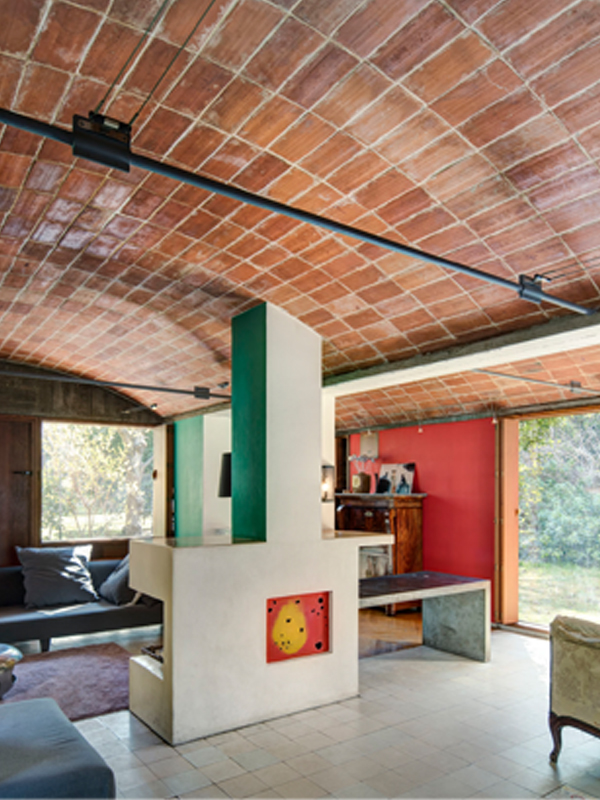 Project
After several proposals, Le Corbusier decided that 'house A' would be built parallel to the Rue de Longchamp and that 'house' B would be located behind the first house but perpendicular to it.
The houses have in common a basement with a garage, accessible from the street by a ramp. Their interior layout is similar: the hall, living room and kitchen occupy the ground floor; the bedrooms and bathrooms are located on the 1st and 2nd floors.
The facades are made of brick walls with bands of raw concrete, and the roofing of so-called "Catalan" vaults of flat tiles, with roof greenery. Le Corbusier applied Modulor dimensions to these constructions by choosing spans of 2.66 m x 2.66 m and 3.66 m. Work proceeded fairly quickly and 'house A' was delivered in 1953. The construction of the second house was delayed by the death of André Jaoul. Delivery took place at the end of 1955.
Maisons Jaoul (détail) © FLC / ADAGP / Manuel Bougot
Subsequent History
The houses were occupied by the Jaoul families until 1987, then sold by Sotheby's to a collector, who was also a modern architecture enthusiast. In 2000 they were again sold, to two sisters and their families.
The houses had been carefully preserved in their original state by the Jaoul family. The first restoration works took place in 1991 and involved the exterior concrete, waterproofing the terraces, the exterior joinery and modernizing the plumbing and electricity.The work was supervised by two men who had worked on the original project, Jacques Michel and Salvatore Bertocchi, the former as Le Corbusier's associate and the latter as masonry contractor.
The facades and roofs, listed as historical monuments, have been subjected to recent restoration involving the brick and raw concrete facades, the exterior joinery and  waterproofing of the terraces (2018-2019).
Maisons Jaoul, Neuilly-sur-Seine © FLC/ADAGP

Maisons Jaoul, Neuilly-sur-Seine
© FLC/ADAGP

Maisons Jaoul, Neuilly-sur-Seine © FLC/ADAGP

Maisons Jaoul, Neuilly-sur-Seine
© FLC/ADAGP

Maisons Jaoul, Neuilly-sur-Seine © FLC/ADAGP

Maisons Jaoul, Neuilly-sur-Seine
© FLC/ADAGP

Maisons Jaoul, Neuilly-sur-Seine © FLC/ADAGP

Maisons Jaoul, Neuilly-sur-Seine
© FLC/ADAGP

Maisons Jaoul, Neuilly-sur-Seine © FLC/ADAGP

Maisons Jaoul, Neuilly-sur-Seine
© FLC/ADAGP

Maisons Jaoul, Neuilly-sur-Seine © FLC/ADAGP

Maisons Jaoul, Neuilly-sur-Seine
© FLC/ADAGP

Maisons Jaoul, Neuilly-sur-Seine © FLC/ADAGP

Maisons Jaoul, Neuilly-sur-Seine
© FLC/ADAGP

Maisons Jaoul, Neuilly-sur-Seine © FLC/ADAGP

Maisons Jaoul, Neuilly-sur-Seine
© FLC/ADAGP

Maisons Jaoul, Neuilly-sur-Seine © FLC/ADAGP

Maisons Jaoul, Neuilly-sur-Seine
© FLC/ADAGP

Maisons Jaoul, Neuilly-sur-Seine © FLC/ADAGP

Maisons Jaoul, Neuilly-sur-Seine
© FLC/ADAGP

Maisons Jaoul, Neuilly-sur-Seine © FLC/ADAGP

Maisons Jaoul, Neuilly-sur-Seine
© FLC/ADAGP

Maisons Jaoul, Neuilly-sur-Seine
© FLC/ADAGP
Maisons Jaoul, Neuilly-sur-Seine © FLC/ADAGP

Maisons Jaoul, Neuilly-sur-Seine
© FLC/ADAGP

Maisons Jaoul, Neuilly-sur-Seine © FLC/ADAGP

Maisons Jaoul, Neuilly-sur-Seine
© FLC/ADAGP

Maisons Jaoul, Neuilly-sur-Seine © FLC/ADAGP

Maisons Jaoul, Neuilly-sur-Seine
© FLC/ADAGP

Maisons Jaoul, Neuilly-sur-Seine © FLC/ADAGP

Maisons Jaoul, Neuilly-sur-Seine
© FLC/ADAGP

Maisons Jaoul, Neuilly-sur-Seine © FLC/ADAGP

Maisons Jaoul, Neuilly-sur-Seine
© FLC/ADAGP

Maisons Jaoul, Neuilly-sur-Seine © FLC/ADAGP

Maisons Jaoul, Neuilly-sur-Seine
© FLC/ADAGP

Maisons Jaoul, Neuilly-sur-Seine © FLC/ADAGP

Maisons Jaoul, Neuilly-sur-Seine
© FLC/ADAGP

Maisons Jaoul, Neuilly-sur-Seine © FLC/ADAGP

Maisons Jaoul, Neuilly-sur-Seine
© FLC/ADAGP

Maisons Jaoul, Neuilly-sur-Seine © FLC/ADAGP

Maisons Jaoul, Neuilly-sur-Seine
© FLC/ADAGP

Maisons Jaoul, Neuilly-sur-Seine © FLC/ADAGP

Maisons Jaoul, Neuilly-sur-Seine
© FLC/ADAGP

Maisons Jaoul, Neuilly-sur-Seine © FLC/ADAGP

Maisons Jaoul, Neuilly-sur-Seine
© FLC/ADAGP

Maisons Jaoul, Neuilly-sur-Seine
© FLC/ADAGP