Doncourt Flying Club
Doncourt-lès-Conflans, France, 1951-1954
Commission
It was through his friend Philippe Serre, a member of parliament and former resistance fighter, that Le Corbusier was given an unusual commission in 1951: the construction of a clubhouse for the Briey district flying club at Doncourt-lès-Conflans.
In 1938, Le Corbusier had already received commissions from Serre, then Under Secretary of State for Labour in the Blum Government, for the Centre Scientifique de la Main-d'Œuvre and the Centre d'Étude du Travail.
This new building was intended to replace a popular youth hostel-cum-flying club built by Jacques Ogé in 1938 and demolished in 1944. In the spring of 1951, Le Corbusier was commissioned, in association with the father-and-son architects Jacques and Bernard Ogé and the builder Jean Prouvé, to draw up plans and undertake the reconstruction of this building.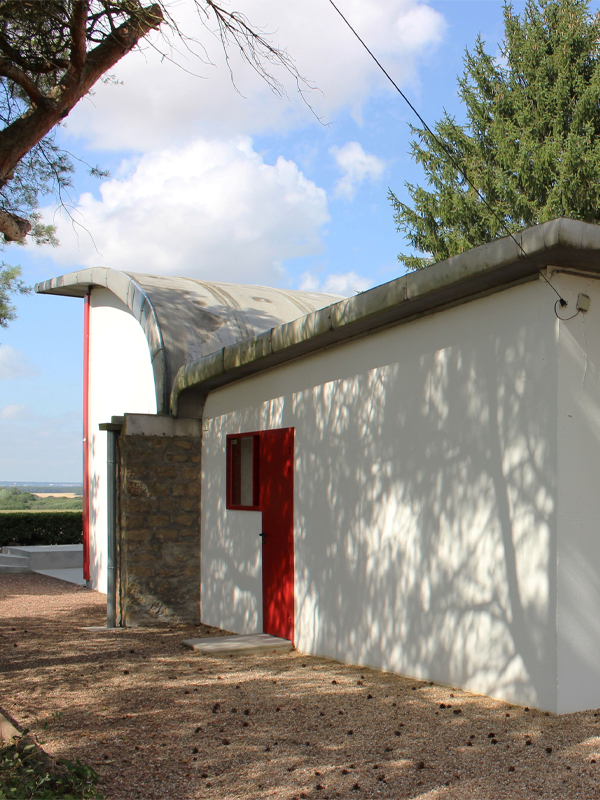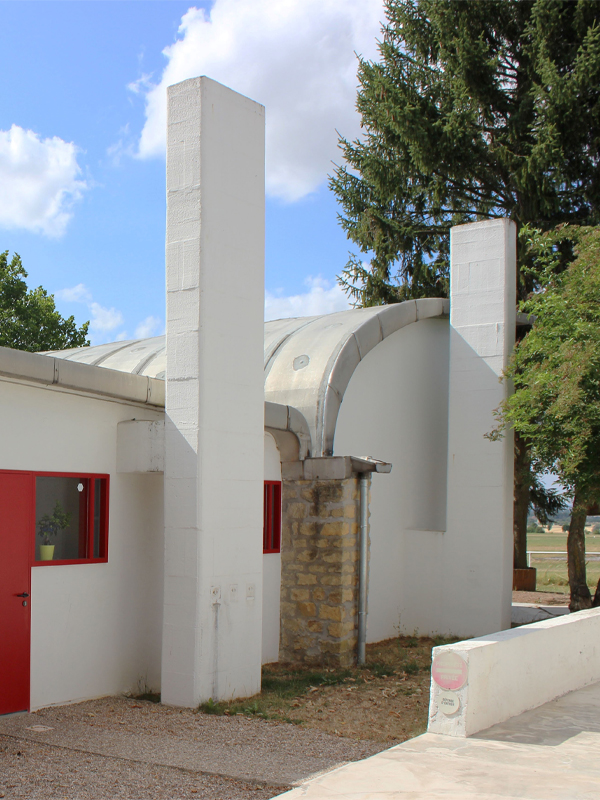 Project
Le Corbusier gave Ogé and Prouvé very precise instructions, in particular stipulating that rebuilding of the clubhouse should conform to Modulor dimensions.
With an eye to efficiency, the architect turned to the Prouvé catalogue of mass-produced parts. The building took the shape of two aluminum shells (aircraft wing type), placed back to back and resting against the same longitudinal stone wall. The public space consisted of a double-height section opening towards the aerodrome; a lower-level section was intended for private use.
The interiors were equipped with a 16-bed dormitory, toilet and shower facilities, living rooms, a bedroom, a room for the chief pilot, quarters for the instructors, together with a kitchen, bar and restaurant. The north and south facades had a largely glazed surface made of reinforced glass. The control office, located in front of the main building, was a small rounded structure. The project also conformed to Le Corbusier's criteria for colour combinations.
The colours he chose were "terracotta", dark grey, light grey, natural umber and light blue. It was initially planned that Fernand Léger should decorate the interiors, but nothing came of this.
The Clubhouse was hardly a revolution in the history of aviation building but, apart from the staircase of the Marseilles Housing Unit, it was the only occasion on which Le Corbusier and Jean Prouvé produced something together.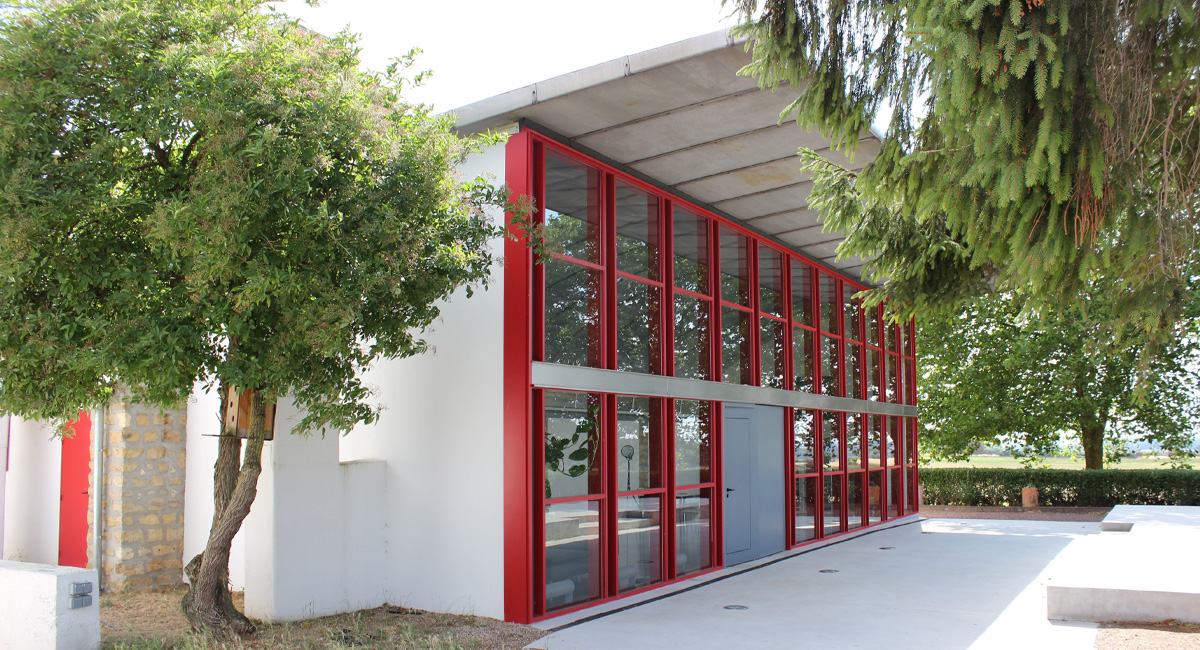 Aéroclub de Doncourt © FLC / ADAGP / Pierre Maurer, LHAC / URCAUE Lorraine
Subsequent History
After being long forgotten, the building was rediscovered in 1980. Since April 1999, it has

benefited from partial Historic Monument registration (facades, roofs, supporting

structures, chimneys, etc.). It was not until 2011-2013 that rehabilitation was undertaken

and the building made available for rental.
Aéroclub, Doncourt
© FLC/ADAGP

Aéroclub, Doncourt
© FLC/ADAGP

Aéroclub, Doncourt
© FLC/ADAGP

Aéroclub, Doncourt
© FLC/ADAGP

Aéroclub, Doncourt
© FLC/ADAGP
Aéroclub, Doncourt
© FLC/ADAGP

Aéroclub, Doncourt
© FLC/ADAGP

Aéroclub, Doncourt
© FLC/ADAGP

Aéroclub, Doncourt
© FLC/ADAGP

Aéroclub, Doncourt
© FLC/ADAGP