Museum of the City
Ahmedabad, India, 1951-1957
Commission
The Ahmedabad Millowners' Association, formed by wealthy Indian textile industrialists, contacted Le Corbusier in March 1951 for the design of a cultural centre. They commissioned from him a museum of painting, sculpture and archeology with a view to building it in the Paldi district, on the banks of the Sabarmati river.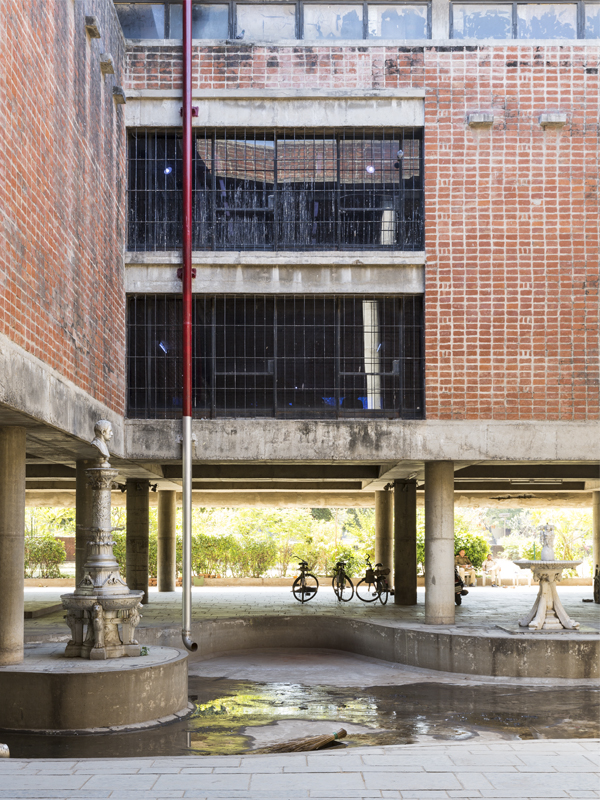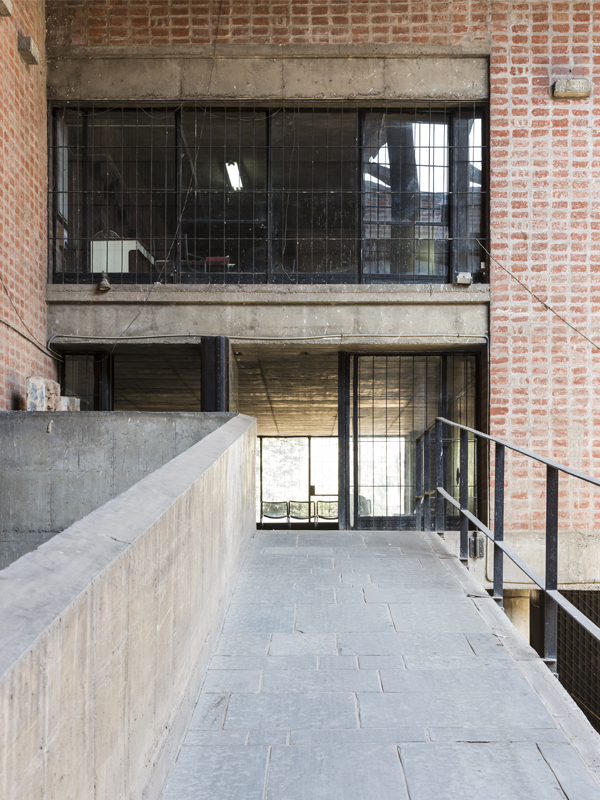 Project
The museum programme, written by Gautham Sarabhai and developed by Jean-Louis Veret, Le Corbusier's collaborator based in Ahmedabad, quickly evolved into a cultural centre which Le Corbusier called a "museum of knowledge" and whose mission was to present archaeology, local ethnography, art and science. Le Corbusier drew the plans on the concept of the "museum of unlimited growth" invented in the 1930s. Designed in a square spiral, the principle was to be able to enlarge it for acquisitions and means of financing.
The building has a square plan with 50 metre sides supported by a reinforced concrete structure. From the outset Le Corbusier foresaw a building whose possibilities of enlargement were limited to 84 metres on each side, making it possible however to increase the exhibition surface from 2500 to 7000 square metres. The museum is distinguished by its exposed red brick walls and an umbrella roof designed to accommodate 45 water retention basins and plant beds. The entrance is from below, through a central patio with a basin and a ramp that provides access to the main room on the first floor intended for hanging the centrepieces. "We enter upstairs in a square spiral nave formed of a double span of 7 metres between posts also spaced 7 metres apart: total 14 metres." It features galleries of painting, sculpture, contemporary art, rooms of local archaeology, Indian anthropology, traditional Indian art, applied arts, natural history, a space showcasing the natural resources of the Gujarat, a library and a restaurant.
The concrete left visible, cased in sheet metal and not wood, offers a new aesthetic proposal for the presentation of raw concrete.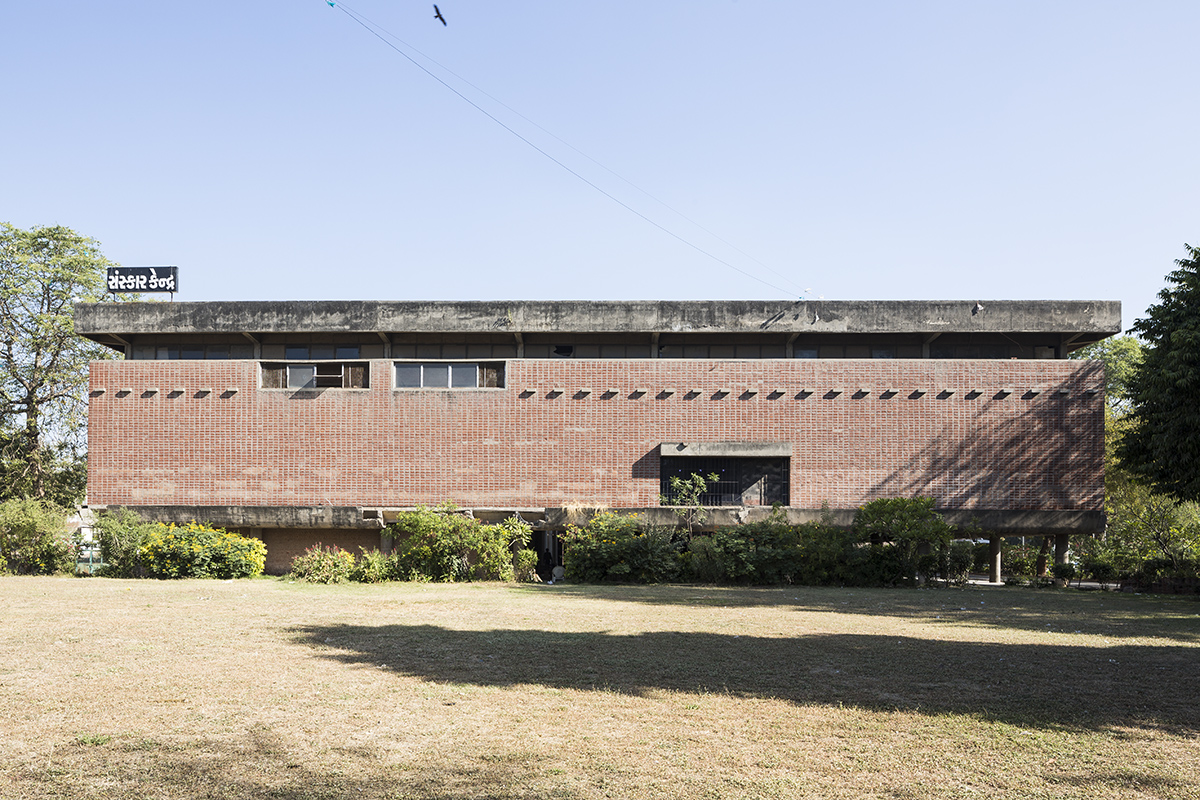 Musée d'Ahmedabad © FLC / ADAGP / Olivier Martin-Gambier
Subsequent History
The Sanskar Kendra Museum has been open to the public since 1956.
Musée, Ahmedabad
© FLC/ADAGP

Musée, Ahmedabad
© FLC/ADAGP

Musée, Ahmedabad
© FLC/ADAGP

Musée, Ahmedabad
© FLC/ADAGP

Musée, Ahmedabad
© FLC/ADAGP

Musée, Ahmedabad
© FLC/ADAGP

Musée, Ahmedabad
© FLC/ADAGP

Musée, Ahmedabad
© FLC/ADAGP

Musée, Ahmedabad
© FLC/ADAGP

Musée, Ahmedabad
© FLC/ADAGP

Musée, Ahmedabad
© FLC/ADAGP

Musée, Ahmedabad
© FLC/ADAGP

Musée, Ahmedabad
© FLC/ADAGP

Musée, Ahmedabad
© FLC/ADAGP

Musée, Ahmedabad
© FLC/ADAGP

Musée, Ahmedabad
© FLC/ADAGP

Musée, Ahmedabad
© FLC/ADAGP

Musée, Ahmedabad
© FLC/ADAGP

Musée, Ahmedabad
© FLC/ADAGP

Musée, Ahmedabad
© FLC/ADAGP
Musée, Ahmedabad
© FLC/ADAGP

Musée, Ahmedabad
© FLC/ADAGP

Musée, Ahmedabad
© FLC/ADAGP

Musée, Ahmedabad
© FLC/ADAGP

Musée, Ahmedabad
© FLC/ADAGP

Musée, Ahmedabad
© FLC/ADAGP

Musée, Ahmedabad
© FLC/ADAGP

Musée, Ahmedabad
© FLC/ADAGP

Musée, Ahmedabad
© FLC/ADAGP

Musée, Ahmedabad
© FLC/ADAGP

Musée, Ahmedabad
© FLC/ADAGP

Musée, Ahmedabad
© FLC/ADAGP

Musée, Ahmedabad
© FLC/ADAGP

Musée, Ahmedabad
© FLC/ADAGP

Musée, Ahmedabad
© FLC/ADAGP

Musée, Ahmedabad
© FLC/ADAGP

Musée, Ahmedabad
© FLC/ADAGP

Musée, Ahmedabad
© FLC/ADAGP

Musée, Ahmedabad
© FLC/ADAGP

Musée, Ahmedabad
© FLC/ADAGP