Maison du Brésil, cité internationale Universitaire
Paris, France, 1952-1959
Commission
In 1952, Lucio Costa was commissioned by the Brazilian government to build the Maison du Brésil, a residence for Brazilian students in the Cité Universitaire Internationale in Paris.
In 1953, Lucio Costa proposed a sketch of the building and entrusted the development of the project to Le Corbusier, who had already built the nearby Swiss pavilion. While retaining the initial architectural style, Le Corbusier introduced so many modifications that Lucio Costa finally withdrew from the project. Costa nevertheless advised Charlotte Perriand for the interior design of students' rooms. Funded by the Brazilian Institute of Pedagogical Studies, the pavilion was inaugurated on 24 June, 1959.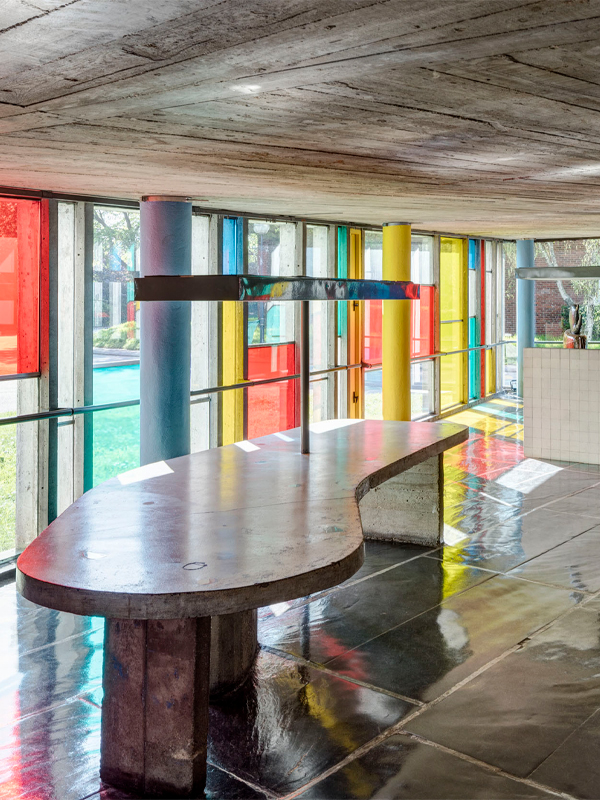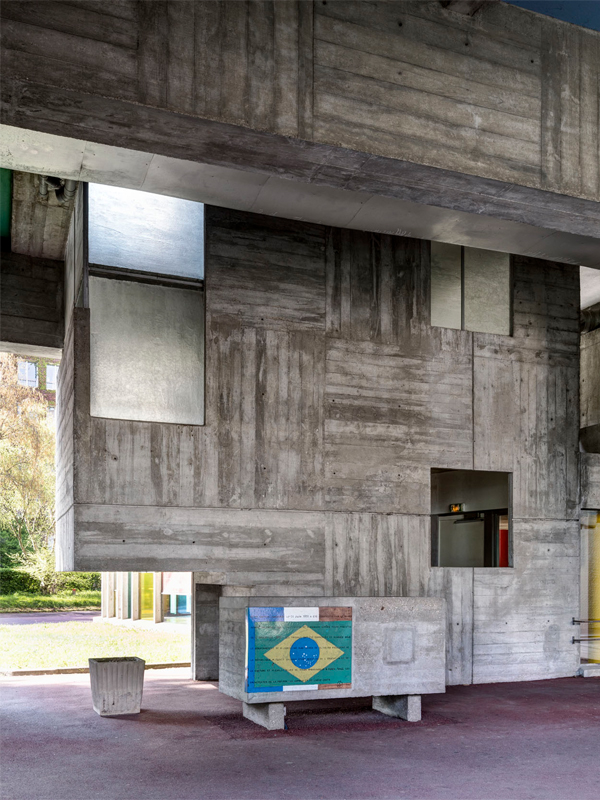 Project
The Maison du Brésil presents the characteristics of Le Corbusier's Brutalist architecture: loggias, polychromy, use of undulating glass panels. It consists of three units.
The main building accommodates a hundred students' rooms and is 5 floors high. Supported on rough concrete pilotis, its facade is composed of painted concrete loggias. Each of these is in fact an extension of the rationally organized 18 sq m living spaces.
The fittings designed by Le Corbusier and Charlotte Perriand include a wooden bed and stool, a square table with drawers, a shelf with a slate board and a cupboard forming a separation between the bedroom and the bathroom. The corridors and kitchens on each floor overlook the park, while the bedrooms face the avenue.
A rectangular wing connected to the main building accommodates the communal parts of the pavilion (entrance, recreational and exhibition room, library, meeting room, auditorium). The low flat roofed building opens onto the outside through large bay windows, punctuated by undulating sections of glass.
The director's house, trapezoidal in shape, has a sloping roof and undulating glass panels on the facade.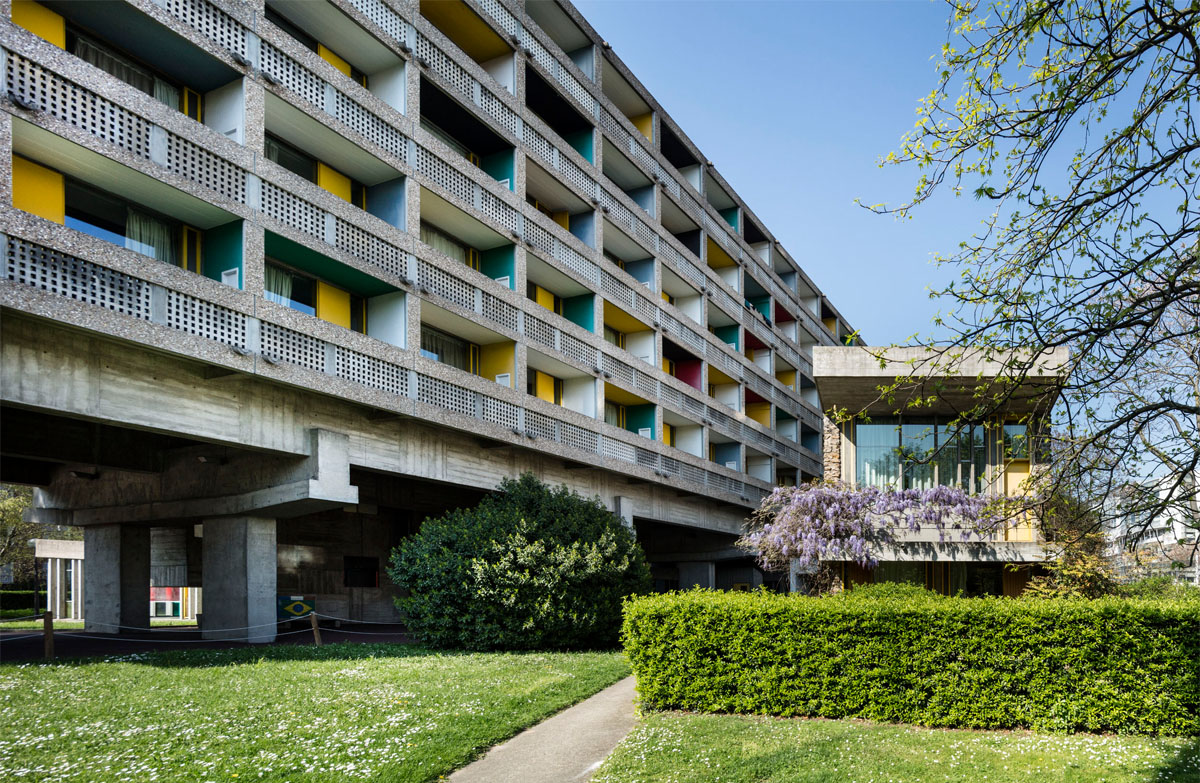 Maison du Brésil © FLC / ADAGP / Manuel Bougot
Subsequent History
The Maison du Brésil has the status of a Recognized Public Utility Foundation. The Brazilian ambassador to France chairs its board of directors.
In 1985, the building was fully registered as a French historical monument.  Restorations were carried out from 1997 to 2000 by the architects Bernard Bauchet and Hubert Rio, in collaboration with the Le Corbusier Foundation, the Historical Monuments Research Laboratory, the architects of Bâtiments de France and the Ministry of Culture. The site particularly raised the problem of restoring the concrete: the use of a corrosion inhibitor proved necessary. Inside, the collective spaces have been restored and the kitchens refurbished.
Major maintenance work on the facades was carried out by the same architects in 2019: renovation of fractured concrete components, renovation of the upper terrace roof waterproofing, authentic renovation of the paint used on the facades.
At present, the Maison du Brésil has a capacity of 100 students and receives nearly 500 visitors monthly.
Maison du Brésil
© FLC / ADAGP / Manuel Bougot

Maison du Brésil, cité internationale Universitaire, Paris
© FLC/ADAGP

Maison du Brésil, cité internationale Universitaire, Paris
© FLC/ADAGP

Maison du Brésil, cité internationale Universitaire, Paris
Photo : G.E. Kidder Smith
© FLC/ADAGP

Maison du Brésil, cité internationale Universitaire, Paris
© FLC/ADAGP

Maison du Brésil, cité internationale Universitaire, Paris
Photo : Lucien Hervé
© FLC/ADAGP

Maison du Brésil, cité internationale Universitaire, Paris
© FLC/ADAGP

Maison du Brésil, cité internationale Universitaire, Paris
© FLC/ADAGP

Maison du Brésil, cité internationale Universitaire, Paris
© FLC/ADAGP

Maison du Brésil, cité internationale Universitaire, Paris
Photo : Lucien Hervé
© FLC/ADAGP

Maison du Brésil, cité internationale Universitaire, Paris
Photo : Lucien Hervé
© FLC/ADAGP
Maison du Brésil
© FLC / ADAGP / Manuel Bougot

Maison du Brésil, cité internationale Universitaire, Paris
© FLC/ADAGP

Maison du Brésil, cité internationale Universitaire, Paris
© FLC/ADAGP

Maison du Brésil, cité internationale Universitaire, Paris
Photo : G.E. Kidder Smith
© FLC/ADAGP

Maison du Brésil, cité internationale Universitaire, Paris
© FLC/ADAGP

Maison du Brésil, cité internationale Universitaire, Paris
Photo : Lucien Hervé
© FLC/ADAGP

Maison du Brésil, cité internationale Universitaire, Paris
© FLC/ADAGP

Maison du Brésil, cité internationale Universitaire, Paris
© FLC/ADAGP

Maison du Brésil, cité internationale Universitaire, Paris
© FLC/ADAGP

Maison du Brésil, cité internationale Universitaire, Paris
Photo : Lucien Hervé
© FLC/ADAGP

Maison du Brésil, cité internationale Universitaire, Paris
Photo : Lucien Hervé
© FLC/ADAGP