ZHLC Exhibition Pavilion (Maison de l'Homme / Zurich Pavilion)
Zurich, Switzerland, 1960-1967
Commission
Heidi Weber, owner of the Mezzanin gallery in Zurich, organized there in February 1959 the first of the many exhibitions she would devote to Le Corbusier, presenting furniture, reissues of the four 1928 armchairs, drawings and paintings.
In January 1960, she commissioned Le Corbusier's Maison de l'Homme, destined to become a living centre of contemporary culture in the heart of Zurich. The building, financed by Heidi Weber, was built in the Zurichhorn park, on a 50 year land lease from the city council. 
The building went through a long and eventful design and construction process.  Following an initial project planned by Le Corbusier in concrete, at Heidi Weber's request the final project for La Maison de l'Homme was designed in steel. In 1965, Le Corbusier signed the final plans for the project, which he entrusted to his friend the architect Willy Boesiger.
When the architect died, his collaborators Alain Tavès and Robert Rebutato, assisted on site by Ernst Iten, took over management of the project. The final building stages were led by Lisbeth Sachs. It was opened to the public on July 16, 1967 as the Zurich Heidi Weber Museum – Le Corbusier Centre.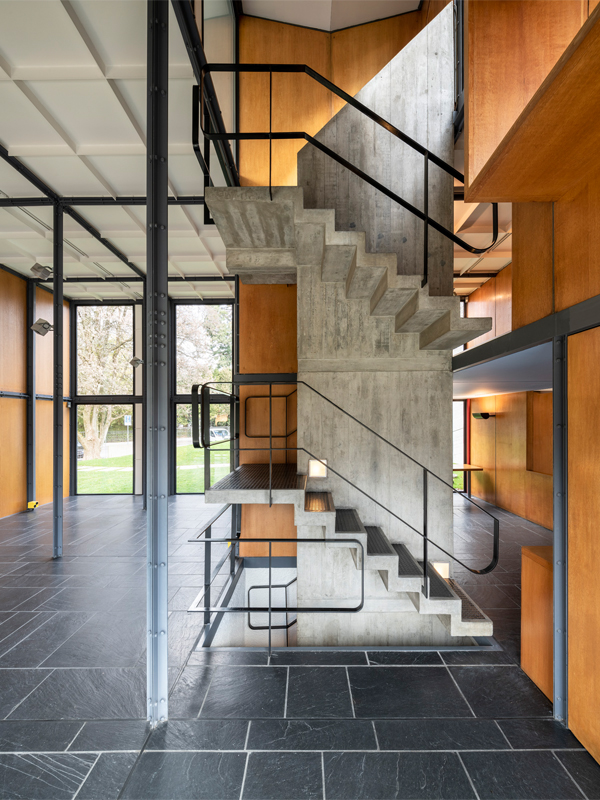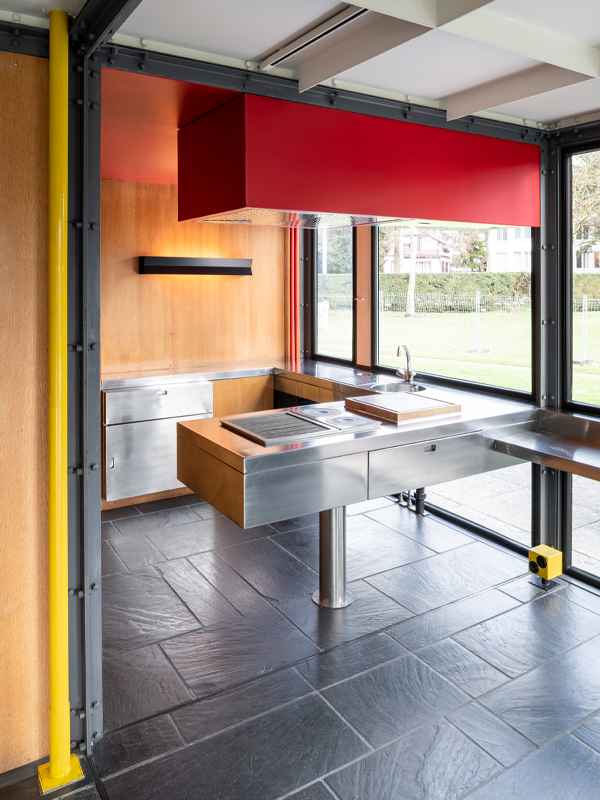 Project
This work, partly a house, partly a museum, is one of the last buildings designed by Le Corbusier and a true synthesis of his architectural principles.
The Maison de l'Homme is in two main parts.
The first part is a large independent metal roof supported by nine steel pillars, providing permanent protection against rain and sun.
The second part is the "main building", independent of the roof, made up of cubic elements of prefabricated steel plates bolted together and assembled on site. The 226 cm side cubes correspond to the measurements of the Modulor and Le Corbusier's "226 X 226 X 226" patent. The whole forms a vast interior space opening onto a staircase and a ramp. These invite one to an "architectural promenade" and lead to a sheltered terrace under the roof.
The facade combines bay windows and enamelled steel panels in bright colours (red, green and yellow).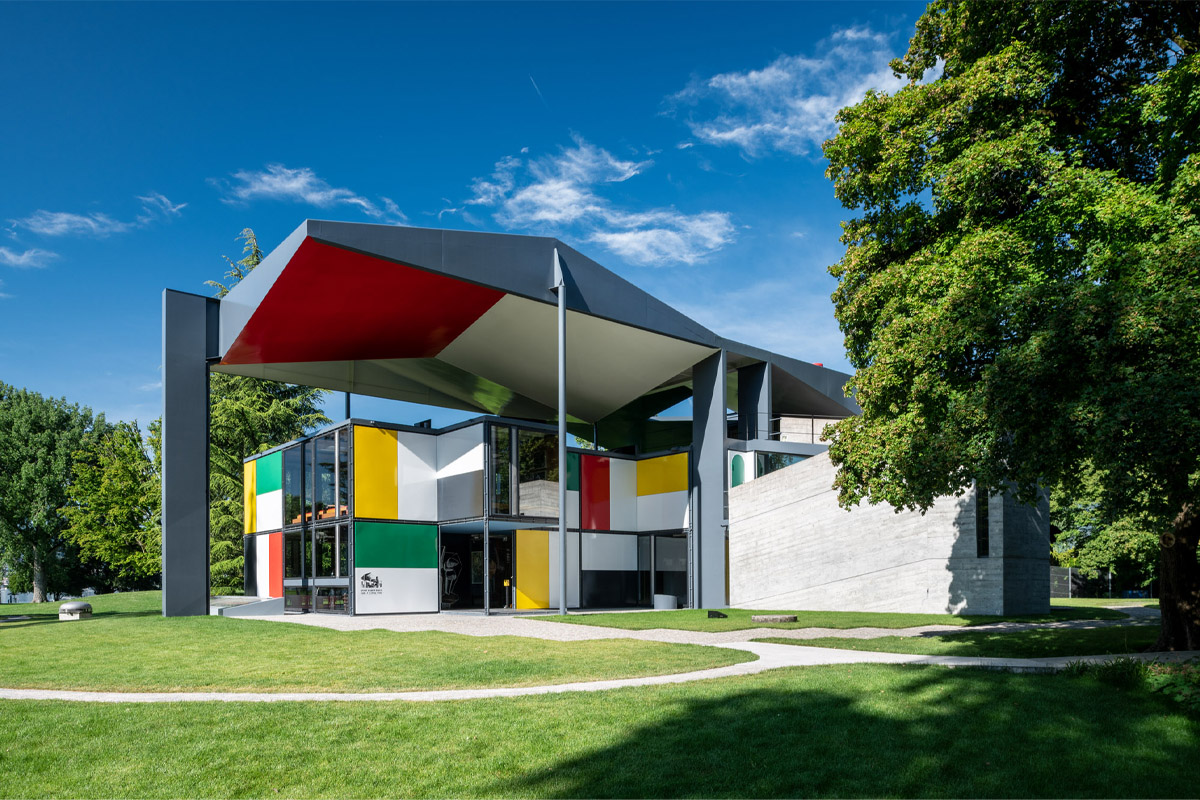 Pavillon d'exposition ZHLC © FLC / ADAGP / Umberto Romito / Ivan Šuta, Museum für Gestaltung Zürich, ZHdK
Subsequent History
From its opening until its handing over to the Zurich City Council at the end of the lease in 2014, the Heidi Weber Museum – Le Corbusier Centre continued to hold important exhibitions, conferences and meetings on architecture, the environment and contemporary art.
Now renamed the Zurich Pavilion, it is attached to the Museum für Gestaltung and holds temporary exhibitions on Le Corbusier.
Financed by the City Council, the canton and the Swiss Confederation, the renovation carried out in 2017 made it possible in particular to renovate the structures damaged by rust, to seal the roof and the facades and to repair the underfloor heating.
It is listed in the Swiss Inventory of Cultural Property of National and Regional importance. 
Pavillon d'exposition ZHLC (Maison de l'Homme), Zurich
© FLC/ADAGP

Pavillon d'exposition ZHLC (Maison de l'Homme), Zurich
© FLC/ADAGP

Pavillon d'exposition ZHLC (Maison de l'Homme), Zurich
© FLC/ADAGP

Pavillon d'exposition ZHLC (Maison de l'Homme), Zurich
© FLC/ADAGP

Pavillon d'exposition ZHLC (Maison de l'Homme), Zurich
© FLC/ADAGP

Pavillon d'exposition ZHLC (Maison de l'Homme), Zurich
© FLC/ADAGP

Pavillon d'exposition ZHLC (Maison de l'Homme), Zurich
© FLC/ADAGP

Pavillon d'exposition ZHLC (Maison de l'Homme), Zurich
© FLC/ADAGP

Pavillon d'exposition ZHLC (Maison de l'Homme), Zurich
© FLC/ADAGP
Pavillon d'exposition ZHLC (Maison de l'Homme), Zurich
© FLC/ADAGP

Pavillon d'exposition ZHLC (Maison de l'Homme), Zurich
© FLC/ADAGP

Pavillon d'exposition ZHLC (Maison de l'Homme), Zurich
© FLC/ADAGP

Pavillon d'exposition ZHLC (Maison de l'Homme), Zurich
© FLC/ADAGP

Pavillon d'exposition ZHLC (Maison de l'Homme), Zurich
© FLC/ADAGP

Pavillon d'exposition ZHLC (Maison de l'Homme), Zurich
© FLC/ADAGP

Pavillon d'exposition ZHLC (Maison de l'Homme), Zurich
© FLC/ADAGP

Pavillon d'exposition ZHLC (Maison de l'Homme), Zurich
© FLC/ADAGP

Pavillon d'exposition ZHLC (Maison de l'Homme), Zurich
© FLC/ADAGP