Apartment of Charles de Beistegui
Paris, France, 1929-1931
Commission
Charles de Beistegui (1895-1970), an art collector and heir to a family that had made a  mining fortune in Mexico, had for several years been renting an apartment on the fifth level of a town house at 136 Avenue des Champs-Élysées. Being in a position to have improvements made, he asked Le Corbusier and Pierre Jeanneret in 1929 to construct an apartment on the roof of the building, around a set of terraces linked together by an ingenious arrangement of outside staircases and steps. This would serve as a splendid setting for his sumptuous receptions.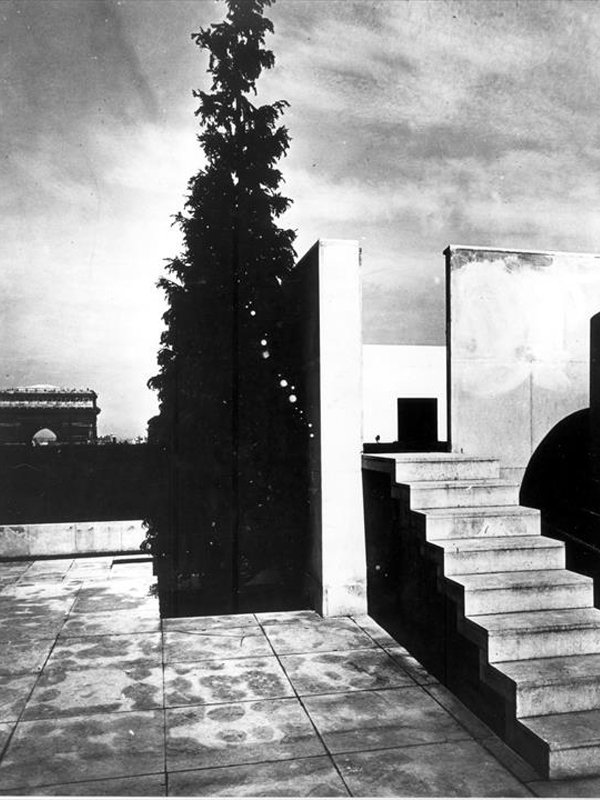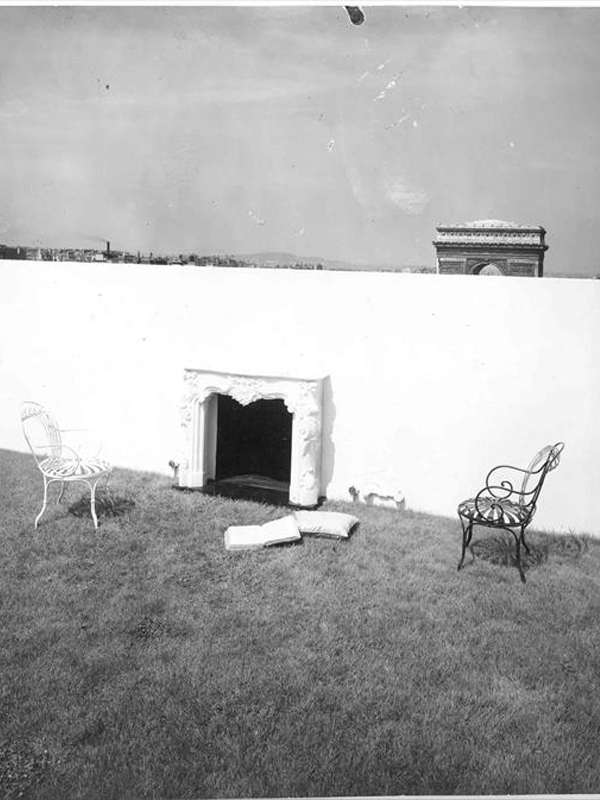 Project
In a letter to de Beistegui dated July 5, 1929, Le Corbusier wrote: "Your programme interests us because it is a first-class programme (the Champs Élysées) and because the solution it offers for the Paris rooftops is one I have been talking about for the last 15 years." Work began between April and May 1930. Beistegui moved into his apartment in the autumn of 1931.
The first level is taken up by the apartment, essentially comprising a large L-shaped living room and dining room. A spiral staircase leads to a study.
The three level terrace leads to an open-air grassy area with high walls, to one of which is fixed a fireplace in line with the Arc de Triomphe.
This project allowed Le Corbusier to test several technological innovations involving soundproofing, electrical and mechanical installations and cinema equipment. These included a hedge on the terrace with a mechanized trimming device, a removable partition between the dining room and the living room, a cinema projector hidden behind a rotating mirror, a periscope, etc.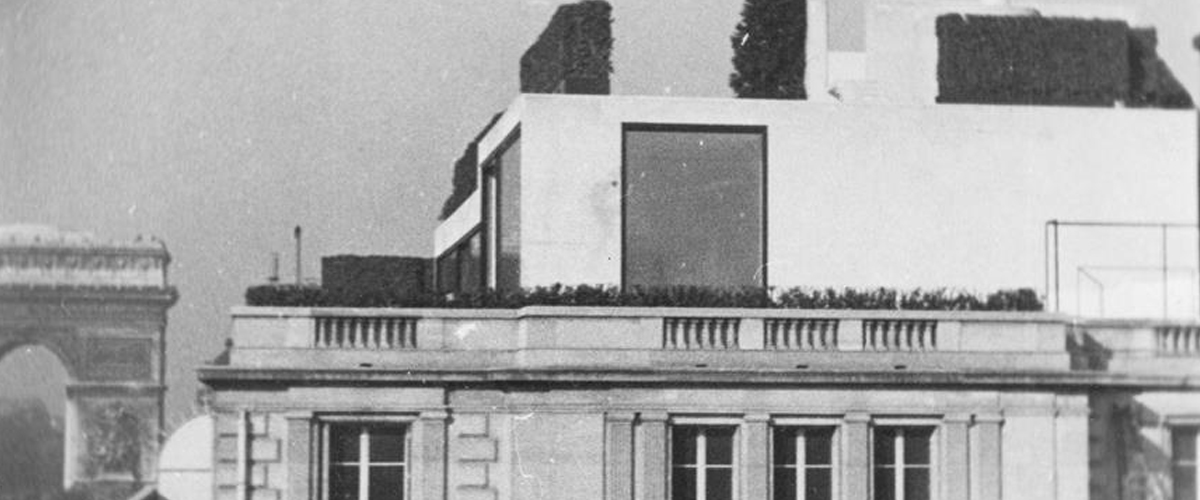 Subsequent History
Finding the apartment too cramped, de Beistegui moved out in 1938.
Today its volume remains visible from the street, including the terraces, which have undergone radical changes. In connection with a request for work on renovation and waterproofing at 136 Avenue des Champs Élysées, the Commission du Vieux Paris (Old Paris Commission) took an interest in the site and commissioned a heritage suvey on the state of conservation of the exterior masonry. This was presented during the Commission's plenary session on October 21, 2010.
Appartement de M. Charles de Beistegui, Paris
© FLC/ADAGP

Appartement de M. Charles de Beistegui, Paris
Photo : Lucien Hervé
© FLC/ADAGP

Appartement de M. Charles de Beistegui, Paris
Photo : Lucien Hervé
© FLC/ADAGP

Appartement de M. Charles de Beistegui, Paris
Photo : Lucien Hervé
© FLC/ADAGP

Appartement de M. Charles de Beistegui, Paris
© FLC/ADAGP

Appartement de M. Charles de Beistegui, Paris
© FLC/ADAGP

Appartement de M. Charles de Beistegui, Paris
© FLC/ADAGP

Appartement de M. Charles de Beistegui, Paris
Photo : Lucien Hervé
© FLC/ADAGP

Appartement de M. Charles de Beistegui, Paris
Photo : Lucien Hervé
© FLC/ADAGP

Appartement de M. Charles de Beistegui, Paris
© FLC/ADAGP
Appartement de M. Charles de Beistegui, Paris
© FLC/ADAGP

Appartement de M. Charles de Beistegui, Paris
Photo : Lucien Hervé
© FLC/ADAGP

Appartement de M. Charles de Beistegui, Paris
Photo : Lucien Hervé
© FLC/ADAGP

Appartement de M. Charles de Beistegui, Paris
Photo : Lucien Hervé
© FLC/ADAGP

Appartement de M. Charles de Beistegui, Paris
© FLC/ADAGP

Appartement de M. Charles de Beistegui, Paris
© FLC/ADAGP

Appartement de M. Charles de Beistegui, Paris
© FLC/ADAGP

Appartement de M. Charles de Beistegui, Paris
Photo : Lucien Hervé
© FLC/ADAGP

Appartement de M. Charles de Beistegui, Paris
Photo : Lucien Hervé
© FLC/ADAGP

Appartement de M. Charles de Beistegui, Paris
© FLC/ADAGP