Cinéma La Scala
La Chaux-de-Fonds, Switzerland, 1916
Commission
Following a competition open to students from La Chaux de Fonds Art School, the commission for this work was initially given to René Chapallaz by the client Edmond Meyer.  Charles-Édouard Jeanneret, who had not participated in the competition, offered his project at a fixed price to Edmond Meyer, who accepted it. This commission put an end to his friendship with Chapallaz.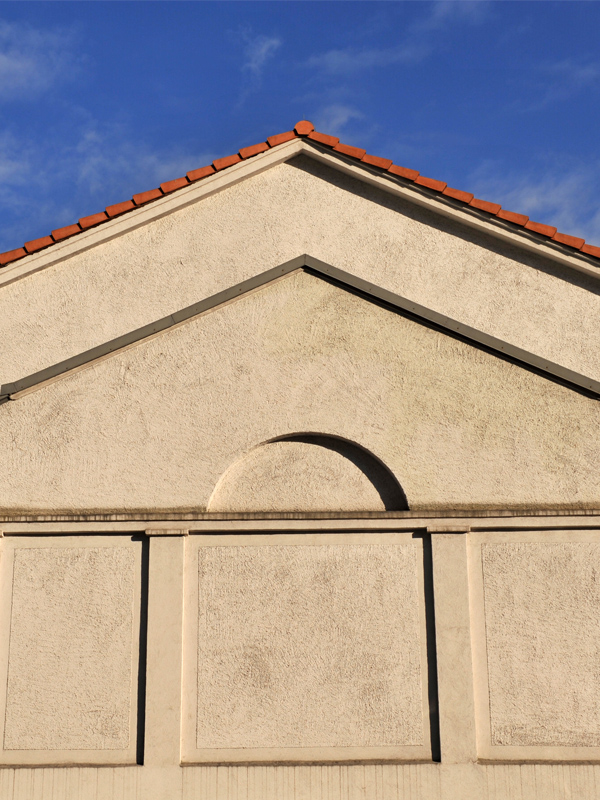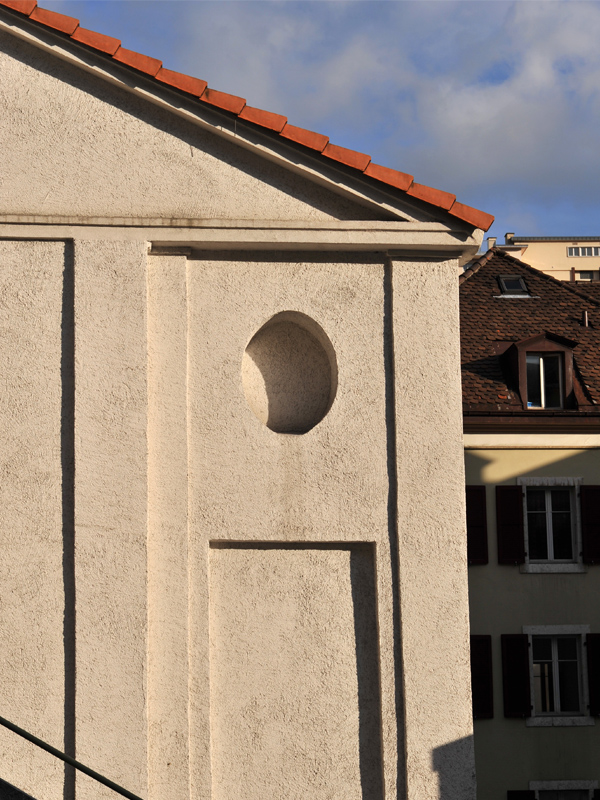 Project
Construction began on July 14, 1916.
To build this 1000 seat film theatre, Jeanneret made use of the natural slope of the land. The projection cabin and the balcony were at the top of the slope and the screen was at the bottom. The entrance facade was surmounted by a large pediment. Cinema posters and visitors were sheltered from bad weather by a gallery, its entrances being materialized by a pediment and pilasters.
The walls of the projection cabin emerged from the centre of the rear facade. On either side of this, access to the balcony was provided by an outside staircase. Used both as a cinema and a theatre, the La Scala cinema had a stage and an orchestra pit. A staircase to the right of the seats on the ground floor provided covered access to the balcony. The structure of the walls and the balcony was in reinforced concrete; the framework trusses were in glued laminated timber ('glulam'), a system patented by the German carpenter Otto Hetzer.
The cinema opened on 1 December.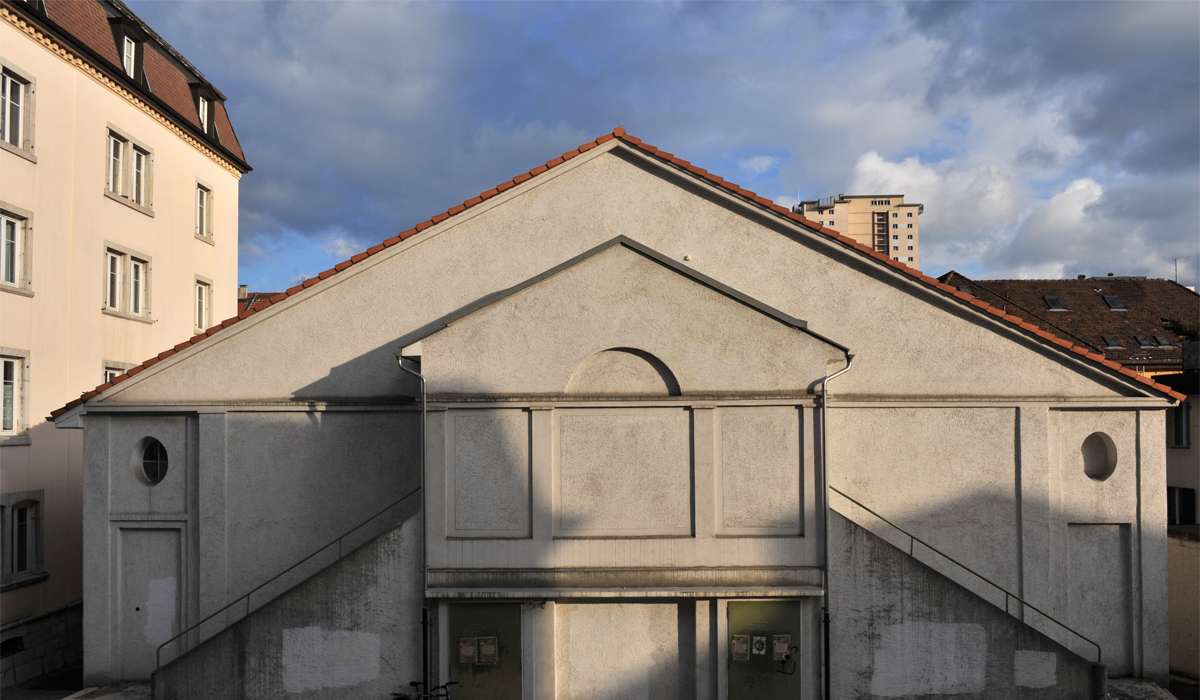 Cinéma La Scala © FLC / ADAGP / Ville de La Chaux-de-Fonds / Aline Henchoz
Subsequent History
Changes were made over the years. At the end of the 1930s the wooden framework was replaced by a metal structure. The projection cabin was also modified in order to accommodate new cinema technology. The cinema was rebuilt in 1971 following a fire. Of the original project, only the rear facade remains, listed since 2017. The cinema still operates.
Cinéma La Scala
© FLC / ADAGP / Ville de La Chaux-de-Fonds / Aline Henchoz

Cinéma La Scala
© FLC / ADAGP / Ville de La Chaux-de-Fonds / Aline Henchoz

Cinéma La Scala
© FLC / ADAGP / Ville de La Chaux-de-Fonds / Aline Henchoz

Cinéma La Scala
© FLC / ADAGP / Ville de La Chaux-de-Fonds / Aline Henchoz

Cinéma "La Scala", La Chaux-de-Fonds
© FLC/ADAGP

Cinéma "La Scala", La Chaux-de-Fonds
© FLC/ADAGP

Cinéma "La Scala", La Chaux-de-Fonds
© FLC/ADAGP

Cinéma "La Scala", La Chaux-de-Fonds
© FLC/ADAGP
Cinéma La Scala
© FLC / ADAGP / Ville de La Chaux-de-Fonds / Aline Henchoz

Cinéma La Scala
© FLC / ADAGP / Ville de La Chaux-de-Fonds / Aline Henchoz

Cinéma La Scala
© FLC / ADAGP / Ville de La Chaux-de-Fonds / Aline Henchoz

Cinéma La Scala
© FLC / ADAGP / Ville de La Chaux-de-Fonds / Aline Henchoz

Cinéma "La Scala", La Chaux-de-Fonds
© FLC/ADAGP

Cinéma "La Scala", La Chaux-de-Fonds
© FLC/ADAGP

Cinéma "La Scala", La Chaux-de-Fonds
© FLC/ADAGP

Cinéma "La Scala", La Chaux-de-Fonds
© FLC/ADAGP