Villa Jaquemet
La Chaux-de-Fonds, Switzerland, 1907-1908
Commission
Ulysse-Jules Jacquemet, a watch case polisher and Louis Fallet's brother-in-law, followed Albert Stotzer in commissioning a house from Charles-Édouard Jeanneret in 1907. The programme was similar to that of Villa Stotzer. Thehouse was to be divided into two apartments, the owner keeping one of them and the second to be rented. Situated on the Mont Pouillerel heights above La Chaux-de-Fonds, Villa Jacquemet was in the immediate vicinity of Villa Stotzer. Building work was completed in February 1908.
Project
The project was a collaboration between Jeanneret and René Chapallaz, with Jeanneret drawing up the initial plans in December 1907. He also made two clay models, one of the house and another of the south facade. As with Villa Stotzer, the client refused the first project. Jacquemet wanted a house similar to that of L'Éplattenier, situated close by. Thus, as actually built, the project was greatly simplified, particularly the south-east facade overlooking La Chaux-de-Fonds. To the two-sided roof were added gables to the east and west. Adapted to the terrain, the villa includes a basement used for the service rooms. The ground floor and first floor layouts are broadly similar. They each include a living room, bedrooms and a kitchen. The house being restricted by the facades, only the ground floor apartment has a bathroom. The attic is also fitted out. The ground floor has access to the garden via a terrace.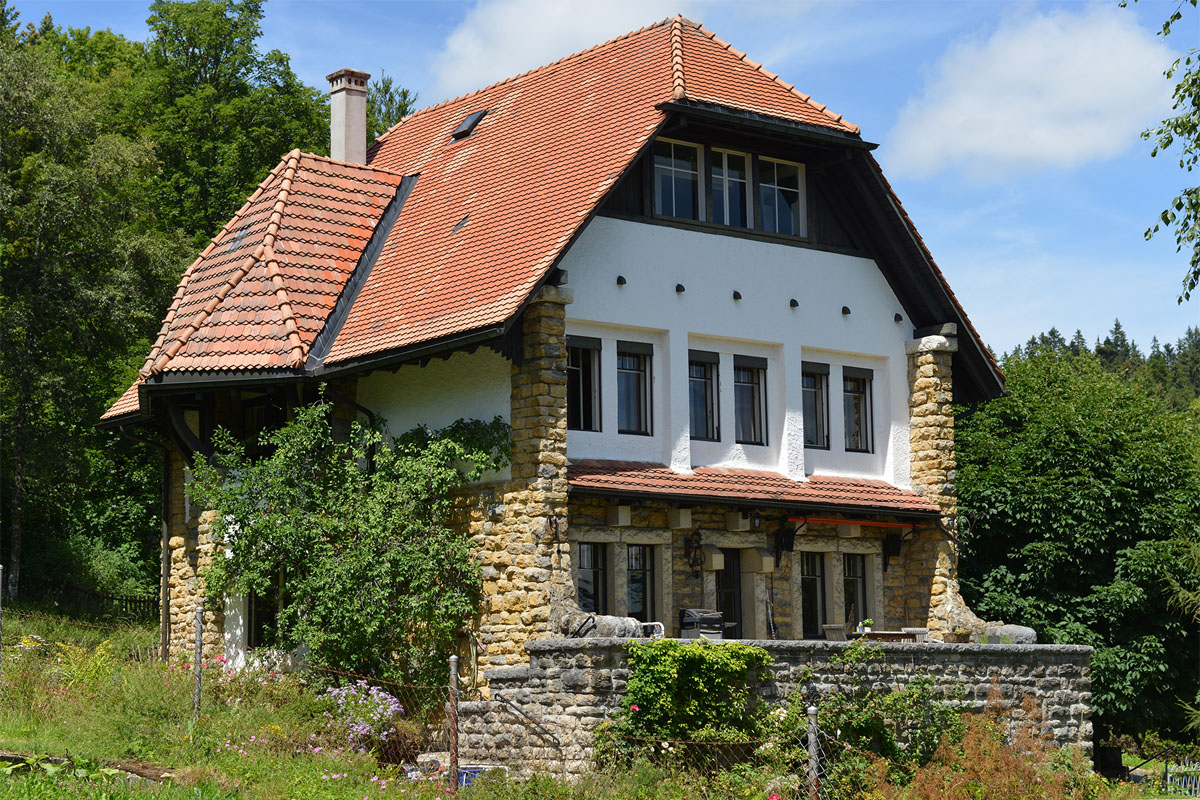 Villa Jaquemet © FLC / ADAGP / Ville de La Chaux-de-Fonds / Aline Henchoz
Subsequent History
The Jacquemets sold the house in 1923. To this day it has remained private property. Over time, the owners have made exterior and interior modifications: the facades were painted white and the two apartments inside the house were combined into one. The exteriors have been officially protected since 1982.
Villa Jaquemet
© FLC / ADAGP / Ville de La Chaux-de-Fonds / Aline Henchoz

Villa Jaquemet, La Chaux-de-Fonds
© FLC/ADAGP

Villa Jaquemet, La Chaux-de-Fonds
© FLC/ADAGP

Villa Jaquemet, La Chaux-de-Fonds
© FLC/ADAGP
Villa Jaquemet
© FLC / ADAGP / Ville de La Chaux-de-Fonds / Aline Henchoz

Villa Jaquemet, La Chaux-de-Fonds
© FLC/ADAGP

Villa Jaquemet, La Chaux-de-Fonds
© FLC/ADAGP

Villa Jaquemet, La Chaux-de-Fonds
© FLC/ADAGP