Villa Stotzer
La Chaux-de-Fonds, Switzerland, 1907-1908
Commission
In 1907, Albert Stotzer, professor of mechanics at the watchmaking school of La Chaux-de-Fonds and brother-in-law of Louis Fallet, asked Charles-Edouard Jeanneret to build him a house. The client wanted a house divided into two apartments, one for himself, the other for renting. The programme was identical to that of Villa Jacquemet, built at the same period on a plot nearby. The work was completed at the end of October 1908.
Project
This project was a collaboration between the young Jeanneret and René Chapallaz. As with Villa Jacquemet, Jeanneret designed the initial project, producing a clay model of it in Vienna in November 1907. As with Villa Fallet, the project was richly decorated. It was abandoned after being considered  too expensive by the client.
Stotzer asked Jeanneret to adopt a similar approach to that of the nearby L'Éplattenier house.
A simplified project was produced but the plans have unfortunately been lost. Finally it was the third project that was carried out. In this version, the house rests on a base materialized on the outside by a stone wall which accommodates the service rooms.
A coating of different colours was applied to the facades dotted with stones reminiscent of the retaining wall. Wood and iron are also used. The roof is made of red tiles and consists of several sections. The two apartments, located on the ground and first floors, are identical. They include a living room, three bedrooms, a kitchen and a bathroom. The house is extended, to the south by a terrace on the ground floor and by a balcony on the first floor. Thus both apartments have a view of La Chaux-de-Fonds. The attic is fitted out.
The "fir tree style" is still present in the Villa Stotzer, particularly in the joinery, but there is no comparison with Villa Fallet,. For the interior fittings, Charles-Édouard Jeanneret designed a wardrobe with an integrated sofa. It is made of solid wood and installed in the vestibule.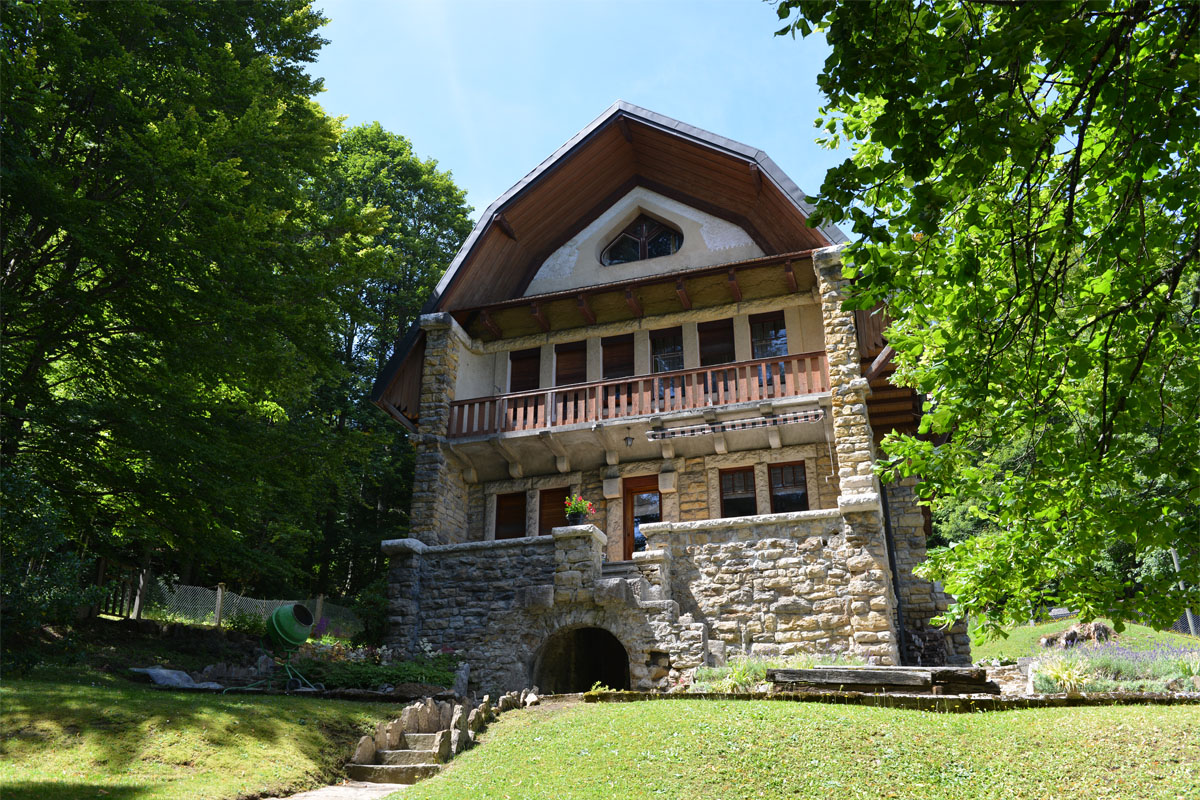 Villa Stotzer © FLC / ADAGP / Ville de La Chaux-de-Fonds / Aline Henchoz
Subsequent History
The Stotzer family moved to the ground floor and rented out the first floor. They lived there until the 1980s. The exteriors have been listed since 1983. The interiors have been modified.
Villa Stotzer
© FLC / ADAGP / Ville de La Chaux-de-Fonds / Aline Henchoz

Villa Stotzer, La Chaux-de-Fonds
© FLC/ADAGP

Villa Stotzer, La Chaux-de-Fonds
© FLC/ADAGP

Villa Stotzer, La Chaux-de-Fonds
© FLC/ADAGP
Villa Stotzer
© FLC / ADAGP / Ville de La Chaux-de-Fonds / Aline Henchoz

Villa Stotzer, La Chaux-de-Fonds
© FLC/ADAGP

Villa Stotzer, La Chaux-de-Fonds
© FLC/ADAGP

Villa Stotzer, La Chaux-de-Fonds
© FLC/ADAGP