Villa Shodhan
Ahmedabad, India 1951 – 1954
Commission
Villa Shodhan was commissioned from Le Corbusier in 1951 by Surottam Hutheesing, head of the Ahmedabad Millowners' Association. But even before building it, he sold the plans to another Millowner.
The project originally designed for Hutheesing, a single person who liked to entertain, had included terraces and platforms intended for orchestras and small lounges linked by an architectural promenade. The new buyer, Shyamubhai Shodhan, decided to make it a family home with three independent apartments.
Villa Shodhan is located in Ahmedabad, the capital of the state of Gujarat and flagship of the Indian textile industry, noted for its periods of high heat and monsoon.
The villa is inspired by vernacular architectural forms while applying the Purist vocabulary developed by Le Corbusier in the 1920s. The architect defined it as a contemporary version of the 1950s Villa Savoye, tropicalized and Indian. In its widespread use of raw concrete Villa Shodhan nonetheless retains Brutalist characteristics.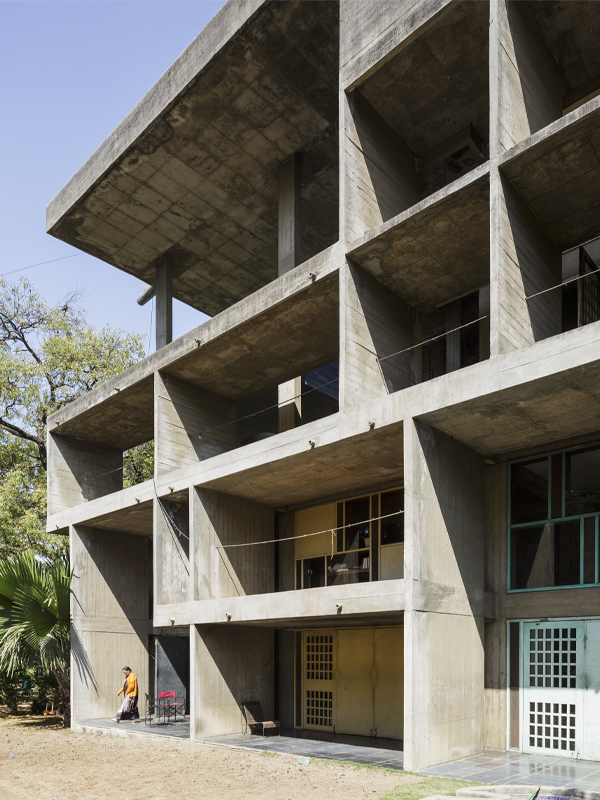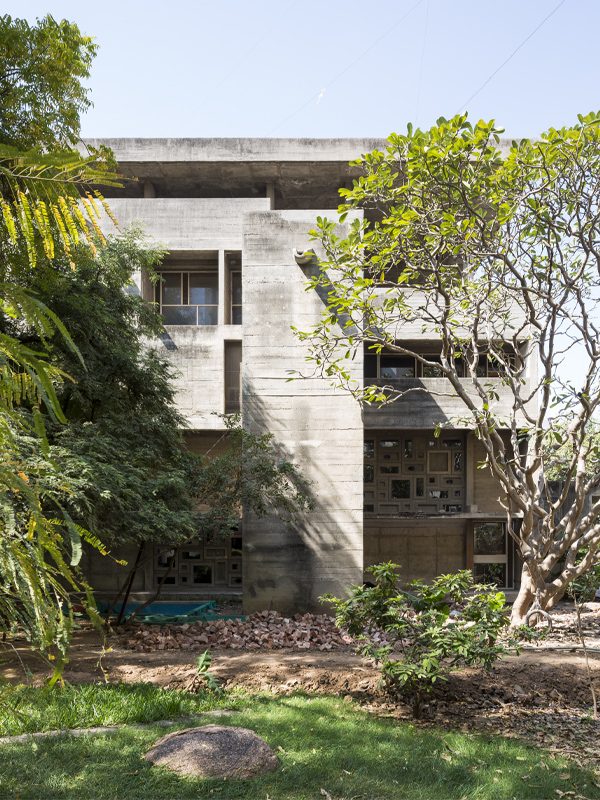 Project
Entirely open to the exterior, the building is an application of the Dom-ino structure, plan and free facades. Consisting of a ground floor and three floors, it is characterized by raw concrete structures and walls, a flat parasol roof and impressive brise-soleils on the facades. Vertical circulation is ensured by stairs and a ramp serving the floors and contributing to the architectural promenade.
The ground floor houses a double-height entrance hall and a mezzanine. The second floor contains bedrooms and an open terrace, while the third consists of living areas.
The raw concrete structure is enlivened by polychrome patches of yellow and green. Le Corbusier applies a paving of black Madras stones to the floor, with a layout of Modulor dimensions, which the architect calls optime paving.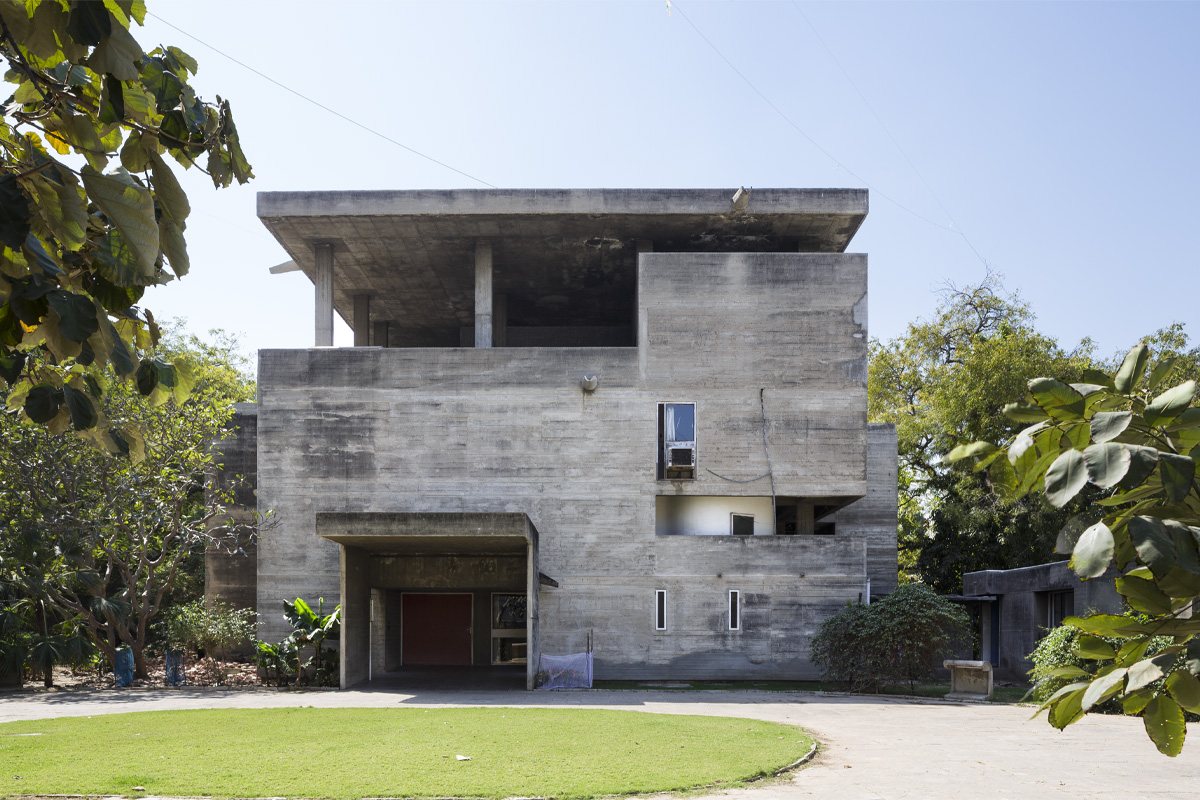 Villa Shodhan © FLC / ADAGP / Olivier Martin-Gambier
Subsequent History
The Shodhan family stille owns the villa and continues to maintain it. Changes have been made under the supervision of Balkrishna Doshi.
Villa Shodhan, Ahmedabad
© FLC/ADAGP

Villa Shodhan, Ahmedabad
© FLC/ADAGP

Villa Shodhan, Ahmedabad
© FLC/ADAGP

Villa Shodhan, Ahmedabad
© FLC/ADAGP

Villa Shodhan, Ahmedabad
© FLC/ADAGP

Villa Shodhan, Ahmedabad
© FLC/ADAGP

Villa Shodhan, Ahmedabad
© FLC/ADAGP

Villa Shodhan, Ahmedabad
© FLC/ADAGP

Villa Shodhan, Ahmedabad
Photo : Asti
© FLC/ADAGP

Villa Shodhan, Ahmedabad
© FLC/ADAGP

Villa Shodhan, Ahmedabad
Photo : Editec
© FLC/ADAGP

Villa Shodhan, Ahmedabad
Photo : Christian Staub
© FLC/ADAGP

Villa Shodhan, Ahmedabad
Photo : Christian Staub
© FLC/ADAGP

Villa Shodhan, Ahmedabad
Photo : Arvind J. Talati 1958
© FLC/ADAGP

Villa Shodhan, Ahmedabad
Photo : Christian Staub
© FLC/ADAGP

Villa Shodhan, Ahmedabad
Photo : Arvind J. Talati 1958
© FLC/ADAGP

Villa Shodhan, Ahmedabad
© FLC/ADAGP

Villa Shodhan, Ahmedabad
Photo : Arvind J. Talati 1958
© FLC/ADAGP
Villa Shodhan, Ahmedabad
© FLC/ADAGP

Villa Shodhan, Ahmedabad
© FLC/ADAGP

Villa Shodhan, Ahmedabad
© FLC/ADAGP

Villa Shodhan, Ahmedabad
© FLC/ADAGP

Villa Shodhan, Ahmedabad
© FLC/ADAGP

Villa Shodhan, Ahmedabad
© FLC/ADAGP

Villa Shodhan, Ahmedabad
© FLC/ADAGP

Villa Shodhan, Ahmedabad
© FLC/ADAGP

Villa Shodhan, Ahmedabad
Photo : Asti
© FLC/ADAGP

Villa Shodhan, Ahmedabad
© FLC/ADAGP

Villa Shodhan, Ahmedabad
Photo : Editec
© FLC/ADAGP

Villa Shodhan, Ahmedabad
Photo : Christian Staub
© FLC/ADAGP

Villa Shodhan, Ahmedabad
Photo : Christian Staub
© FLC/ADAGP

Villa Shodhan, Ahmedabad
Photo : Arvind J. Talati 1958
© FLC/ADAGP

Villa Shodhan, Ahmedabad
Photo : Christian Staub
© FLC/ADAGP

Villa Shodhan, Ahmedabad
Photo : Arvind J. Talati 1958
© FLC/ADAGP

Villa Shodhan, Ahmedabad
© FLC/ADAGP

Villa Shodhan, Ahmedabad
Photo : Arvind J. Talati 1958
© FLC/ADAGP