Water Tower
Podensac, France, 1917
Commission
In 1917 the young Swiss architect Charles-Édouard Jeanneret was contacted by François Thévenot, a public works engineer from Bordeaux, to build a water tower intended to supply the park of the Chavat estate in Podensac. The estate created by Thévenot, included a mansion designed by Henri Marmisse in 1916 and a park designed by the landscape architect Charles Bouhana.
The drinking water supply was set up by the Société d'Application du Béton Armé (SABA). Jeanneret was then a consultant architect for SABA, founded by his childhood friend Max Du Bois.
Built in reinforced concrete in 1917, the Podensac water tower was thus Le Corbusier's first building in France.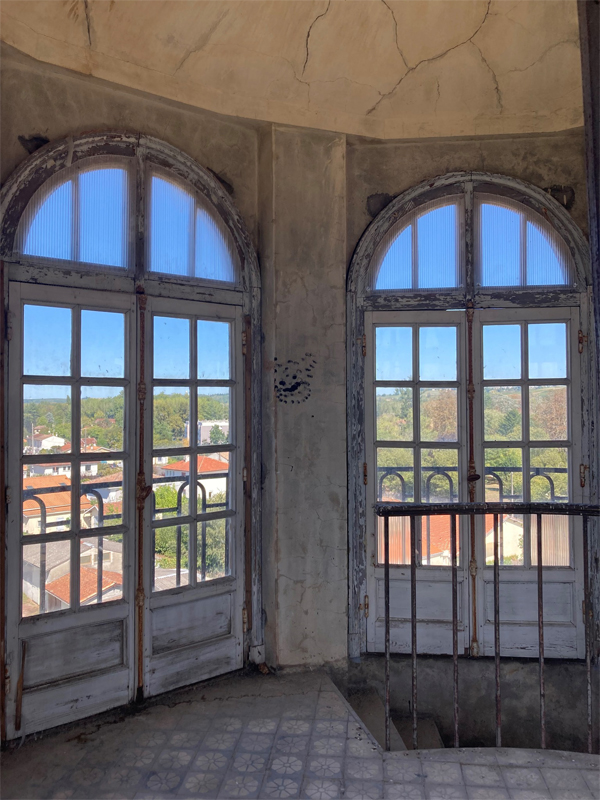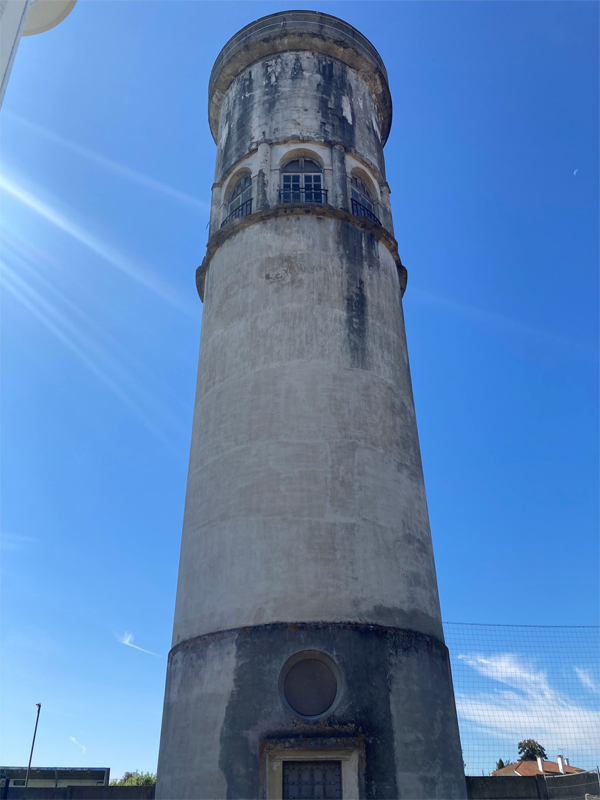 Project
On behalf of SABA, he designed a reinforced concrete water tower, in appearance resembling a lighthouse. The entrance door is surmounted by an oculus, and it opens onto a spiral staircase leading to a rest room under the water tower's tank. Called a "gloriette" (gazebo), this room has eight arched windows, offering a 365-degree view of the surrounding landscape.
A terrace was built above the tank at the top of the structure but  its access staircase was not completed and was replaced by a simple ladder. The terrace was meant to accommodate a lantern, but this was not installed.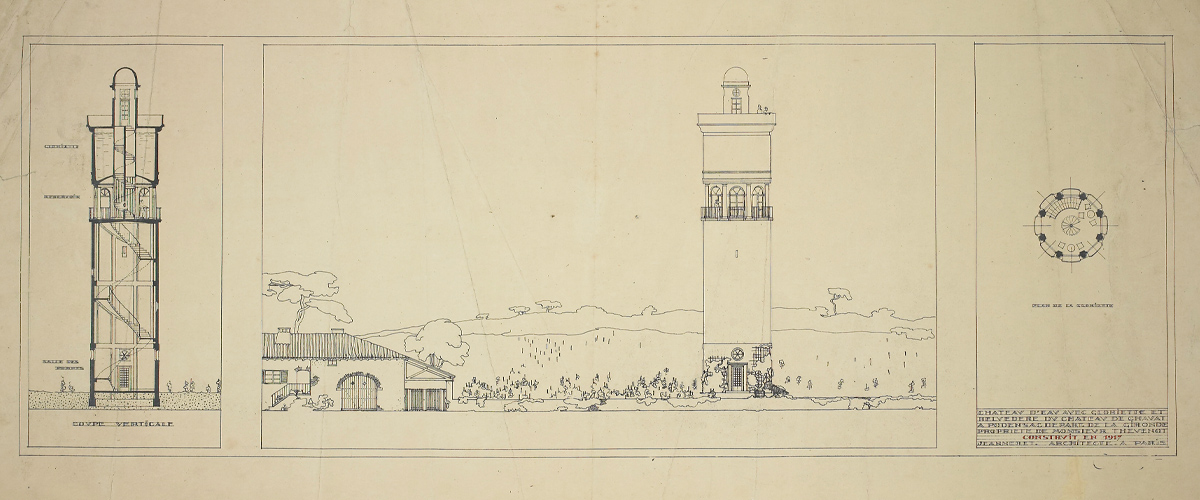 Le Corbusier, plan en coupe du Château d'Eau de Podensac © FLC / ADAGP
Subsequent History
Thirteen years after its construction, the water tower was bought by the waterworks of the municipality of Podensac. In the 1940s, the syndicate decommissioned the water tank and had a new one with a larger capacity built nearby. Jeanneret's water tower was then abandoned, but in 1987 an association of Bordeaux architects, the Groupe des Cinq, bought the building for one symbolic franc and a 99-year emphyteutic lease.
Since then, the association has overseen the enhancement and protection of the building, which was listed as a historic monument in 2006. A restoration campaign was begun in 2022 thanks to the Mission Bern and the Heritage Foundation. This work will enable the Groupe des Cinq to use the building for cultural and heritage purposes.
Château d'eau, Podensac
© FLC/ADAGP

Château d'eau, Podensac
© FLC/ADAGP

Château d'eau, Podensac
© FLC/ADAGP

Château d'eau de Podensac © FLC / ADAGP / Leslie Mozdan

Château d'eau de Podensac © FLC / ADAGP / Leslie Mozdan

Château d'eau de Podensac © FLC / ADAGP / Leslie Mozdan

Château d'eau de Podensac © FLC / ADAGP / Leslie Mozdan
Château d'eau, Podensac
© FLC/ADAGP

Château d'eau, Podensac
© FLC/ADAGP

Château d'eau, Podensac
© FLC/ADAGP

Château d'eau de Podensac © FLC / ADAGP / Leslie Mozdan

Château d'eau de Podensac © FLC / ADAGP / Leslie Mozdan

Château d'eau de Podensac © FLC / ADAGP / Leslie Mozdan

Château d'eau de Podensac © FLC / ADAGP / Leslie Mozdan