Villa Berque - Refurbishment,
Paris, France, 1921-1922
Commission
In the autumn of 1921 Le Corbusier was approached by Charles Berque for the refurbishment of his house located in "Villa Montmorency", a private residential community in the 16th arrondissement of Paris. Charles Berque had been familiar with Le Corbusier's work since, at the advice of his son Jean, painter and friend of Amédée Ozenfant, he became a shareholder of L'Esprit Nouveau.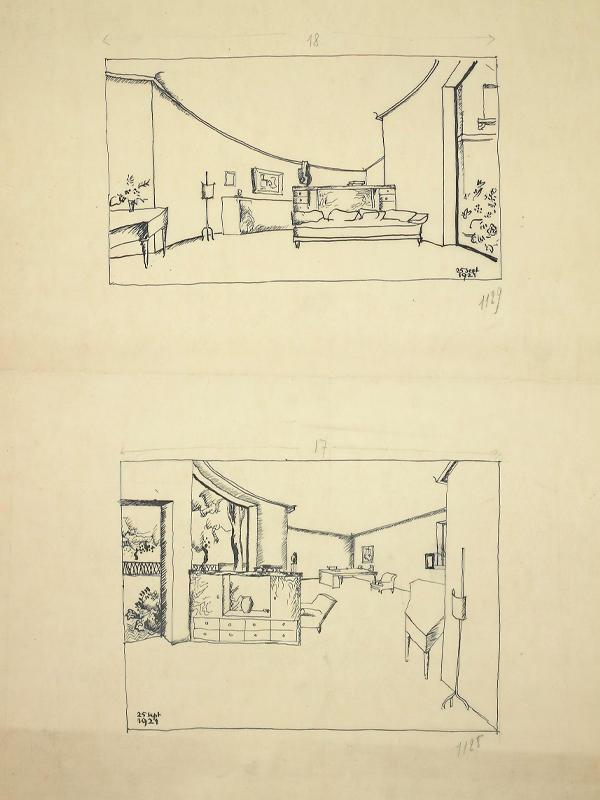 Project
Villa Berque is situated at the end of a triangular plot. The various drawings by Le Corbusier show studies proposing a new interior layout, with furniture, as well as an extension of the living room and the addition of a large terrace surrounded by a metal railing. Other drawings show renovation of the garden and the addition of a pergola.
While it is difficult to determine precisely what work was done, it is certain that the terrace and the interior decoration of the living room were carried out. Work was completed in July 1922.
The terrace was built of concrete and covered with a brick pavement. Particular care was taken in the layout of the living room and respect for the existing decor. Colour played a prominent role in the project, as evidenced by the chalk drawings made by Le Corbusier, which highlight walls and full-height curtains, in particular with a view to enlarging the space.
A letter of February 1922 from Le Corbusier to the architect Georges Brochart, the site manager, indicates the refurbishment of a bathroom, a bedroom, the kitchen and the office. Work to modernize the house was also planned, such as the installation of central heating.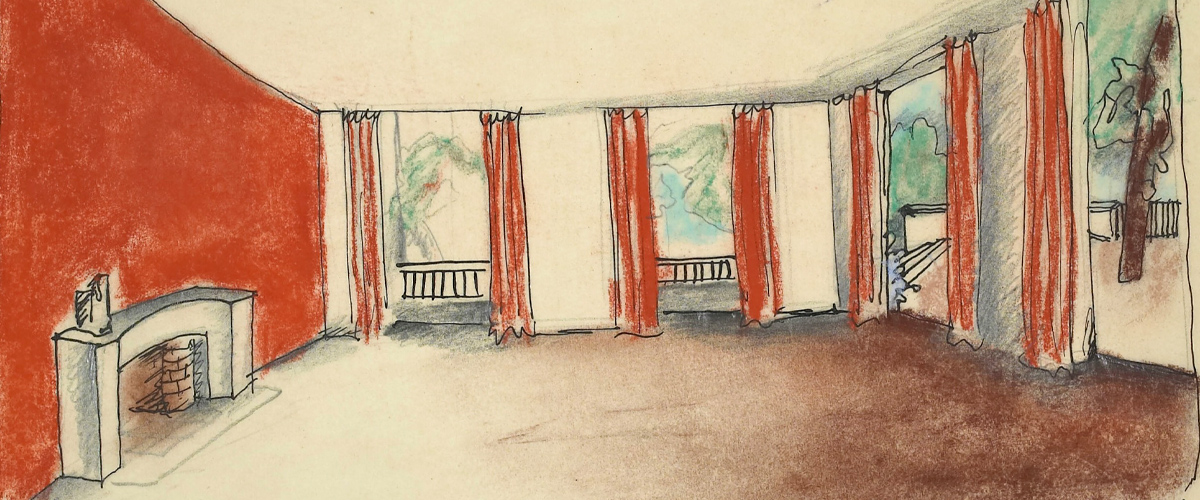 Le Corbusier, Aménagement de la villa Berque, dessin (détail) © FLC / ADAGP
Aménagement de la villa Berque, Paris
© FLC/ADAGP

Aménagement de la villa Berque, Paris
© FLC/ADAGP

Aménagement de la villa Berque, Paris
© FLC/ADAGP

Aménagement de la villa Berque, Paris
© FLC/ADAGP

Aménagement de la villa Berque, Paris
© FLC/ADAGP

Aménagement de la villa Berque, Paris
© FLC/ADAGP

Aménagement de la villa Berque, Paris
© FLC/ADAGP

Aménagement de la villa Berque, Paris
© FLC/ADAGP

Aménagement de la villa Berque, Paris
© FLC/ADAGP
Aménagement de la villa Berque, Paris
© FLC/ADAGP

Aménagement de la villa Berque, Paris
© FLC/ADAGP

Aménagement de la villa Berque, Paris
© FLC/ADAGP

Aménagement de la villa Berque, Paris
© FLC/ADAGP

Aménagement de la villa Berque, Paris
© FLC/ADAGP

Aménagement de la villa Berque, Paris
© FLC/ADAGP

Aménagement de la villa Berque, Paris
© FLC/ADAGP

Aménagement de la villa Berque, Paris
© FLC/ADAGP

Aménagement de la villa Berque, Paris
© FLC/ADAGP