Villa Besnus
Vaucresson, France, 1922-1923
Commission
The house was commissioned by the art critic Georges Besnus (1864-1950), also known as Georges Denoinville.
He had discovered Le Corbusier's work at the Salon d'Automne of 1922, where a model of the Citrohan house was on display.
To his client, Le Corbusier first suggested land on Avenue de Reille in Paris (where the Ozenfant studio-house was later to be built), then land in Auteuil and finally an inexpensive, sloping plot in Vaucresson.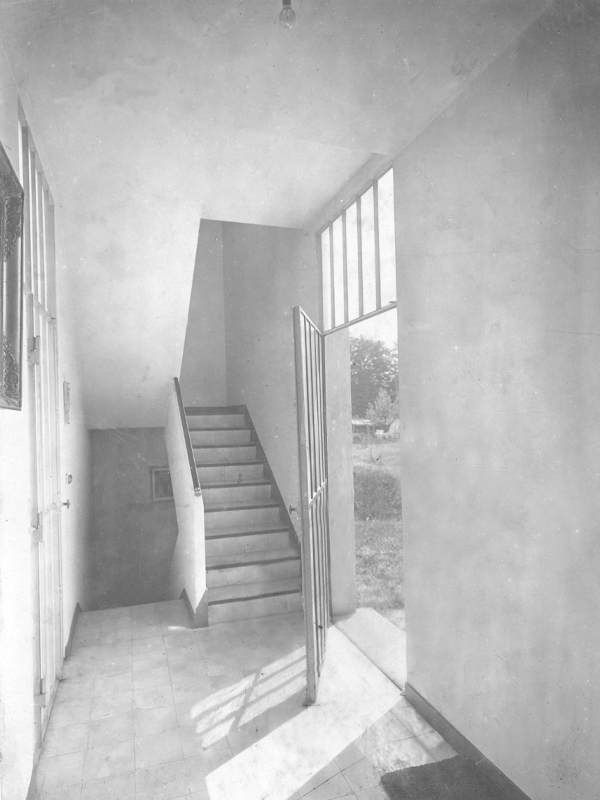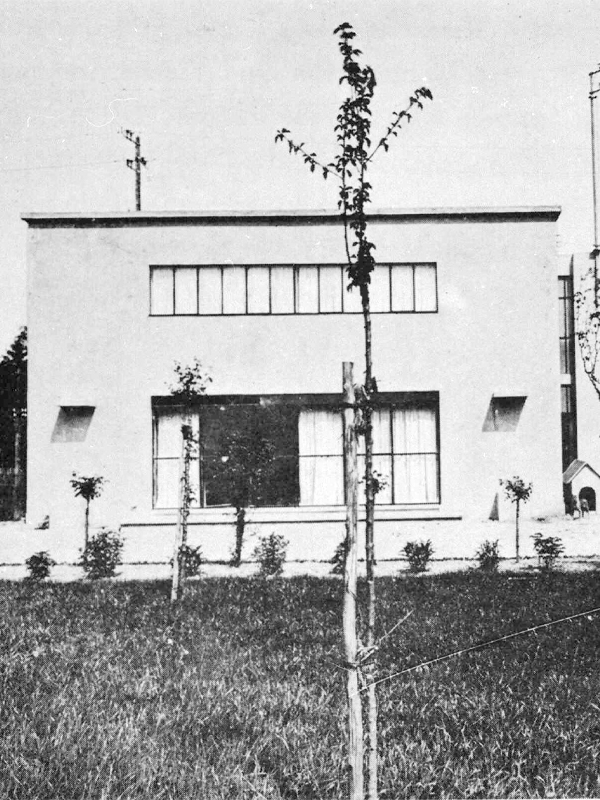 Project
In 1923 Le Corbusier presented Besnus with two preliminary projects; they varied only in the position of the staircase block and the windows. Le Corbusier had also proposed a house on pilotis, which would have solved subsequent infiltration problems.
To complete the sketches and plans, Le Corbusier made a plaster model, exhibited at the Salon d'Automne in 1924.
The house consisted of a ground floor garage, a first floor with a kitchen and dining room, together with a living room and library separated by a fireplace and fixed concrete storage units. The living room had a ceiling height of 2.85 m and could be used as a workshop. On the second floor were a bedroom and private sitting room, with the bathroom installed in the centre.
The facades had an asymmetrical layout. The garden facade was made up of ribbon windows and the staircase block with recessed vertical windows. The street facade had a footbridge leading to the stairwell windows above the entrance door. It was completed by a bow window above the garage door.
Besnus and his wife seem to appreciate their house and named it Ker-Ka-Ré. But in January 1924, as soon as they had moved in, Madame Besnus began complaining of the damp in the stairs, the garage and the living room. Various pieces of poor workmanship, partly due to the firms' lack of experience in this new type of construction, had caused cracks and infiltration. Besnus and his wife moved out in the 1930s.
Subsequent History
The house was then modified and enlarged. Businesses were installed on the ground floor, the footbridge and the bow window were removed and the inaccessible roof terrace was covered by a four-sided roof.
Villa Besnus, "Ker-Ka-Ré", Vaucresson
© FLC/ADAGP

Villa Besnus, "Ker-Ka-Ré", Vaucresson
© FLC/ADAGP

Villa Besnus, "Ker-Ka-Ré", Vaucresson
© FLC/ADAGP

Villa Besnus, "Ker-Ka-Ré", Vaucresson
© FLC/ADAGP

Villa Besnus, "Ker-Ka-Ré", Vaucresson
© FLC/ADAGP

Villa Besnus, "Ker-Ka-Ré", Vaucresson
© FLC/ADAGP
Villa Besnus, "Ker-Ka-Ré", Vaucresson
© FLC/ADAGP

Villa Besnus, "Ker-Ka-Ré", Vaucresson
© FLC/ADAGP

Villa Besnus, "Ker-Ka-Ré", Vaucresson
© FLC/ADAGP

Villa Besnus, "Ker-Ka-Ré", Vaucresson
© FLC/ADAGP

Villa Besnus, "Ker-Ka-Ré", Vaucresson
© FLC/ADAGP

Villa Besnus, "Ker-Ka-Ré", Vaucresson
© FLC/ADAGP