Little Villa on the shores of Lake Geneva
Corseaux, Switzerland , 1923-1924
Commission
A prototype of the minimal house offering maximum comfort, the Little Villa on the shores of Lake Geneva is the second project designed for the architect's parents, after the Maison Blanche – Maison Jeanneret Perret in La Chaux-de-Fonds. The Villa "Le Lac," built with a very limited budget, is located in the town of Corseaux, on a narrow terrain between the shore of Lake Geneva and the road to Lavaux.
Project
This villa already brings together three of the future "five points of a new architecture": the free plan, the roof garden and the long window. A real piece of technical experimentation, the 11-metre window opening onto Lake Geneva and the Alps illustrates a new conception of the framing of the landscape and the relationship to the site and to nature. The garden around the house is part of the space of the villa. Inside the house, the "living machine", everything is organized on a limited surface in a highly functional way: the entrance space; the living room with the workspace; the bedroom ; the modular guest bedroom; the wardrobe; the kitchen and laundry room; the bathroom and the toilets. Villa "Le Lac" is the result of exceptional functionalist research aimed at achieving an architectural standard: the narrow house with a single bay. Considered by many to be the founding act of a certain idea of modernity, Le Corbusier's little Villa is one of the architect's most personal achievements. In 1931 Le Corbusier added a "fruitière" (orchard), a functional annexe with a bunk bed, a simple desk and a chair, opening onto the landscape and placed at the top of the house. A wall was built in the same year to separate the house from the road. The facade is covered with galvanized steel sheets. In 1951, the lake facade  was covered with aluminum sheets.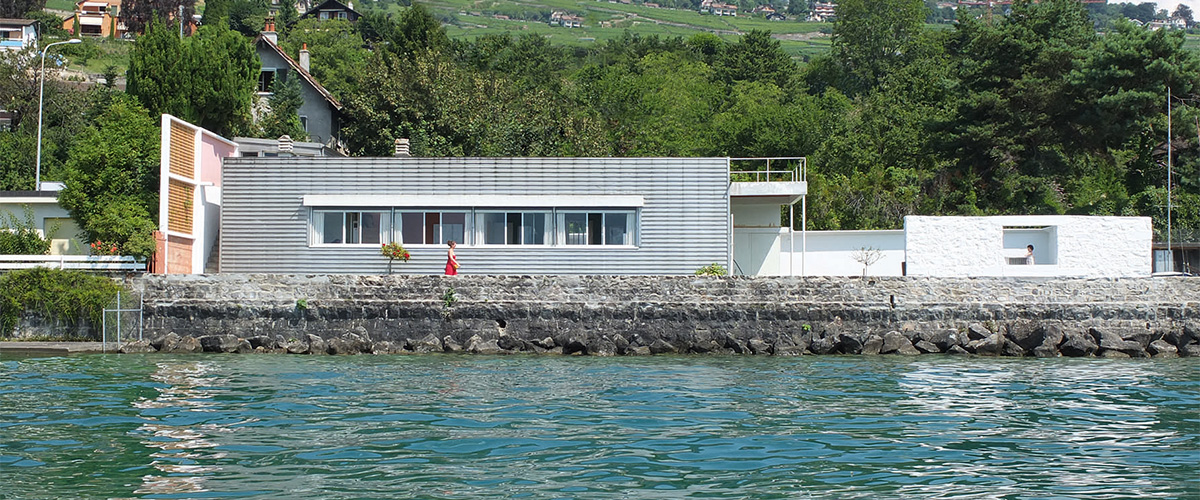 Subsequent History
In 1971, the house became the property of the Fondation Le Corbusier and underwent a series of renovations in 1973 and 2001. In 2008, the Fondation undertook restoration of the exteriors of the house and the garden, revealing, among other things, the very light green colour of the facades. Since June 2016 the Villa "Le Lac" has been part of the series of 17 works or sites by Le Corbusier inscribed on the World Heritage List. Maintenance work on the interior polychromes is at present under way (2022-2023).
Petite maison au bord du lac Léman, Corseaux
Photo : Olivier Martin-Gambier 2006
© FLC/ADAGP

Villa le Lac, Corseaux
Photo : Olivier Martin-Gambier 2005
© FLC/ADAGP

Villa le Lac, Corseaux
Photo : Olivier Martin-Gambier 2005
© FLC/ADAGP

Villa le Lac, Corseaux
Photo : Olivier Martin-Gambier 2005
© FLC/ADAGP

Villa le Lac, Corseaux
Photo : Olivier Martin-Gambier 2005
© FLC/ADAGP

Villa le Lac, Corseaux
Photo : Olivier Martin-Gambier 2005
© FLC/ADAGP

Villa le Lac, Corseaux
Photo : Olivier Martin-Gambier 2005
© FLC/ADAGP

Villa le Lac, Corseaux
Photo : Olivier Martin-Gambier 2005
© FLC/ADAGP

Villa le Lac, Corseaux
Photo : Olivier Martin-Gambier 2005
© FLC/ADAGP

Villa le Lac, Corseaux
Photo : Olivier Martin-Gambier 2005
© FLC/ADAGP

Villa le Lac, Corseaux
Photo : Olivier Martin-Gambier 2005
© FLC/ADAGP

Villa le Lac, Corseaux
Photo : Olivier Martin-Gambier 2005
© FLC/ADAGP

Villa le Lac, Corseaux
Photo : Olivier Martin-Gambier 2005
© FLC/ADAGP

Villa le Lac, Corseaux
Photo : Olivier Martin-Gambier 2005
© FLC/ADAGP

Villa le Lac, Corseaux
Photo : Olivier Martin-Gambier 2005
© FLC/ADAGP

Villa le Lac, Corseaux
Photo : Olivier Martin-Gambier 2005
© FLC/ADAGP

Villa le Lac, Corseaux
Photo : Olivier Martin-Gambier 2005
© FLC/ADAGP

Villa le Lac, Corseaux
Photo : Olivier Martin-Gambier 2005
© FLC/ADAGP

Villa le Lac, Corseaux
Photo : Olivier Martin-Gambier 2005
© FLC/ADAGP

Villa le Lac, Corseaux
Photo : Olivier Martin-Gambier 2005
© FLC/ADAGP

Villa le Lac, Corseaux
Photo : Olivier Martin-Gambier 2005
© FLC/ADAGP

Villa le Lac, Corseaux
Photo : Olivier Martin-Gambier 2005
© FLC/ADAGP

Villa le Lac, Corseaux
Photo : Olivier Martin-Gambier 2005
© FLC/ADAGP

Villa le Lac, Corseaux
Photo : Olivier Martin-Gambier 2005
© FLC/ADAGP

Villa le Lac, Corseaux
Photo : Olivier Martin-Gambier 2005
© FLC/ADAGP

Villa le Lac, Corseaux
Photo : Olivier Martin-Gambier 2005
© FLC/ADAGP

Villa le Lac, Corseaux
Photo : Olivier Martin-Gambier 2005
© FLC/ADAGP

Villa le Lac, Corseaux
Photo : Olivier Martin-Gambier 2005
© FLC/ADAGP

Villa le Lac, Corseaux
Photo : Olivier Martin-Gambier 2005
© FLC/ADAGP

Villa le Lac, Corseaux
Photo : Olivier Martin-Gambier 2005
© FLC/ADAGP

Villa le Lac, Corseaux
Photo : Olivier Martin-Gambier 2005
© FLC/ADAGP

Villa le Lac, Corseaux
Photo : Olivier Martin-Gambier 2005
© FLC/ADAGP

Villa le Lac, Corseaux
Photo : Olivier Martin-Gambier 2005
© FLC/ADAGP

Villa le Lac, Corseaux
Photo : Olivier Martin-Gambier 2005
© FLC/ADAGP

Villa le Lac, Corseaux
Photo : Olivier Martin-Gambier 2005
© FLC/ADAGP

Villa le Lac, Corseaux
Photo : Olivier Martin-Gambier 2005
© FLC/ADAGP

Villa le Lac, Corseaux
Photo : Olivier Martin-Gambier 2005
© FLC/ADAGP

Villa le Lac, Corseaux
Photo : Olivier Martin-Gambier 2005
© FLC/ADAGP

Villa le Lac, Corseaux
Photo : Olivier Martin-Gambier 2005
© FLC/ADAGP

Villa le Lac, Corseaux
Photo : Olivier Martin-Gambier 2005
© FLC/ADAGP
Petite maison au bord du lac Léman, Corseaux
Photo : Olivier Martin-Gambier 2006
© FLC/ADAGP

Villa le Lac, Corseaux
Photo : Olivier Martin-Gambier 2005
© FLC/ADAGP

Villa le Lac, Corseaux
Photo : Olivier Martin-Gambier 2005
© FLC/ADAGP

Villa le Lac, Corseaux
Photo : Olivier Martin-Gambier 2005
© FLC/ADAGP

Villa le Lac, Corseaux
Photo : Olivier Martin-Gambier 2005
© FLC/ADAGP

Villa le Lac, Corseaux
Photo : Olivier Martin-Gambier 2005
© FLC/ADAGP

Villa le Lac, Corseaux
Photo : Olivier Martin-Gambier 2005
© FLC/ADAGP

Villa le Lac, Corseaux
Photo : Olivier Martin-Gambier 2005
© FLC/ADAGP

Villa le Lac, Corseaux
Photo : Olivier Martin-Gambier 2005
© FLC/ADAGP

Villa le Lac, Corseaux
Photo : Olivier Martin-Gambier 2005
© FLC/ADAGP

Villa le Lac, Corseaux
Photo : Olivier Martin-Gambier 2005
© FLC/ADAGP

Villa le Lac, Corseaux
Photo : Olivier Martin-Gambier 2005
© FLC/ADAGP

Villa le Lac, Corseaux
Photo : Olivier Martin-Gambier 2005
© FLC/ADAGP

Villa le Lac, Corseaux
Photo : Olivier Martin-Gambier 2005
© FLC/ADAGP

Villa le Lac, Corseaux
Photo : Olivier Martin-Gambier 2005
© FLC/ADAGP

Villa le Lac, Corseaux
Photo : Olivier Martin-Gambier 2005
© FLC/ADAGP

Villa le Lac, Corseaux
Photo : Olivier Martin-Gambier 2005
© FLC/ADAGP

Villa le Lac, Corseaux
Photo : Olivier Martin-Gambier 2005
© FLC/ADAGP

Villa le Lac, Corseaux
Photo : Olivier Martin-Gambier 2005
© FLC/ADAGP

Villa le Lac, Corseaux
Photo : Olivier Martin-Gambier 2005
© FLC/ADAGP

Villa le Lac, Corseaux
Photo : Olivier Martin-Gambier 2005
© FLC/ADAGP

Villa le Lac, Corseaux
Photo : Olivier Martin-Gambier 2005
© FLC/ADAGP

Villa le Lac, Corseaux
Photo : Olivier Martin-Gambier 2005
© FLC/ADAGP

Villa le Lac, Corseaux
Photo : Olivier Martin-Gambier 2005
© FLC/ADAGP

Villa le Lac, Corseaux
Photo : Olivier Martin-Gambier 2005
© FLC/ADAGP

Villa le Lac, Corseaux
Photo : Olivier Martin-Gambier 2005
© FLC/ADAGP

Villa le Lac, Corseaux
Photo : Olivier Martin-Gambier 2005
© FLC/ADAGP

Villa le Lac, Corseaux
Photo : Olivier Martin-Gambier 2005
© FLC/ADAGP

Villa le Lac, Corseaux
Photo : Olivier Martin-Gambier 2005
© FLC/ADAGP

Villa le Lac, Corseaux
Photo : Olivier Martin-Gambier 2005
© FLC/ADAGP

Villa le Lac, Corseaux
Photo : Olivier Martin-Gambier 2005
© FLC/ADAGP

Villa le Lac, Corseaux
Photo : Olivier Martin-Gambier 2005
© FLC/ADAGP

Villa le Lac, Corseaux
Photo : Olivier Martin-Gambier 2005
© FLC/ADAGP

Villa le Lac, Corseaux
Photo : Olivier Martin-Gambier 2005
© FLC/ADAGP

Villa le Lac, Corseaux
Photo : Olivier Martin-Gambier 2005
© FLC/ADAGP

Villa le Lac, Corseaux
Photo : Olivier Martin-Gambier 2005
© FLC/ADAGP

Villa le Lac, Corseaux
Photo : Olivier Martin-Gambier 2005
© FLC/ADAGP

Villa le Lac, Corseaux
Photo : Olivier Martin-Gambier 2005
© FLC/ADAGP

Villa le Lac, Corseaux
Photo : Olivier Martin-Gambier 2005
© FLC/ADAGP

Villa le Lac, Corseaux
Photo : Olivier Martin-Gambier 2005
© FLC/ADAGP