Maisons La Roche et Jeanneret
Paris, France, 1923 - 1925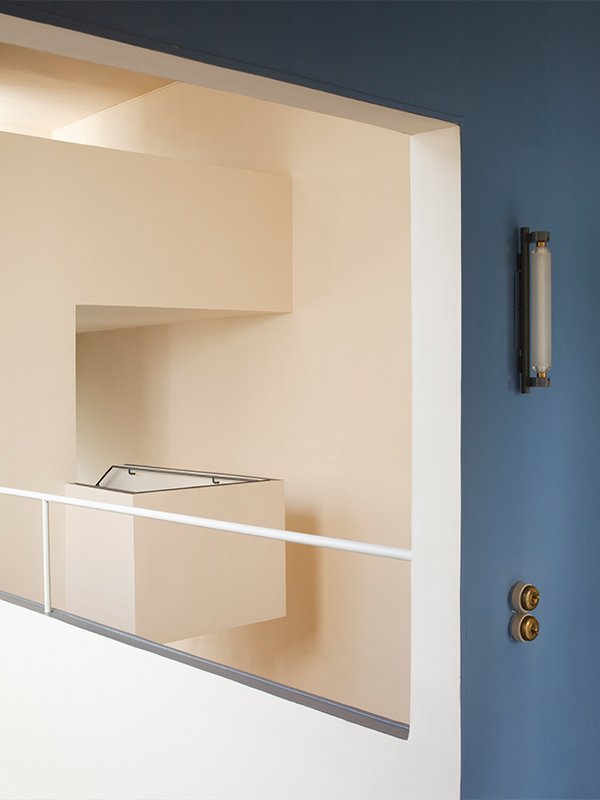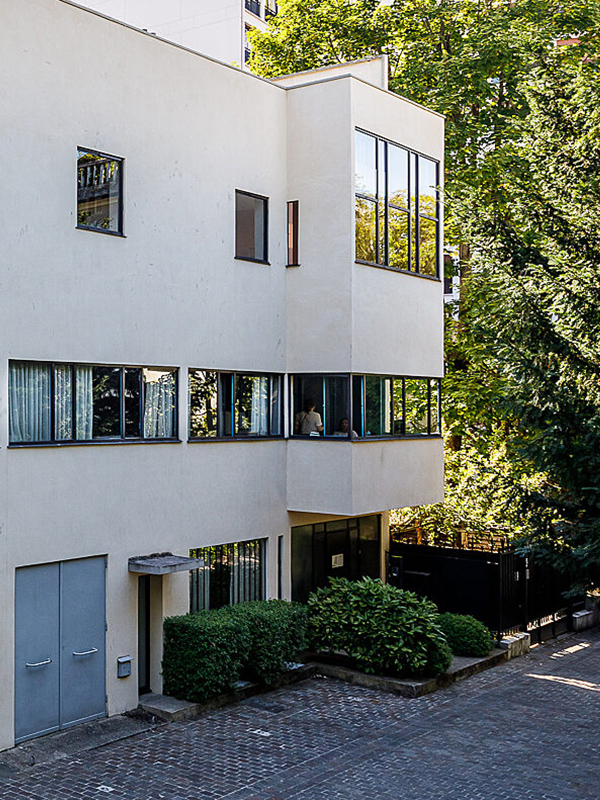 Commission
These two adjoining houses were built in a private cul-de-sac in Paris's 16th arrondissement and designed as a single architectural ensemble with two very different programmes. Maison Jeanneret was made for a family consisting of Albert Jeanneret, Le Corbusier's musician brother, his wife Lotti Raaf and their two children. Maison La Roche was designed for the unmarried banker Raoul La Roche as a setting in which to display his collection of Cubist and Purist works of art. In this collection, largely put together by Le Corbusier and the painter Amédée Ozenfant, we find their own paintings as well, among others, as those of Juan Gris, Picasso and Fernand Léger.
Project
This is one of the Purist ensembles built by Le Corbusier in the 1920s. The Five Points for a New Architecture can already be seen here, in particular the pilotis, appearing for the very first time. Constructed in reinforced concrete with masonry filling of cinder breeze-blocks, the two houses were covered with a coloured coating. This choice was confirmed during the restoration of 2014-2015 which revealed the "stone effect" coating – an imitation stone coating called Cimentaline – chosen by Le Corbusier,.
For the interiors of Maison La Roche, Le Corbusier for the first time introduced the "architectural promenade", the ramp materializing space-time.
In Maison Jeanneret, in contrast, we find an application of the "reverse plan." The shared spaces living room and dining room) are on the second floor while Lotti and Albert's the bedroom and that of the girls are on the first floor.
The interior colour shades, rediscovered during the 2008-2009 restoration, are an early experiment in the "architectural polychromy" developed by Le Corbusier throughout his work. They come from the Purist palette that Le Corbusier used at the time in his painting with the painter Amédée Ozenfant (After Le Cubisme, 1918).
The interior layout, with furniture and lighting specifically designed for these houses, is the outcome of Le Corbusier's thoughts on "equipment for the house", presented in 1925 for the Pavillon de l'Esprit Nouveau, and renewed at the Salon d'Automne in 1929. Here we find mass-produced furniture (Maple leather and Thonet armchairs, etc.), combined with built-in furnishings (bookcase/railings, shelves, compartmented storage units, kitchen layout, etc.) and mobile furniture created for the home such as juxtaposable tables and storage units.
Among the lighting fixtures created are the simple metal rods with bare bulbs first made for the dining room at La Roche.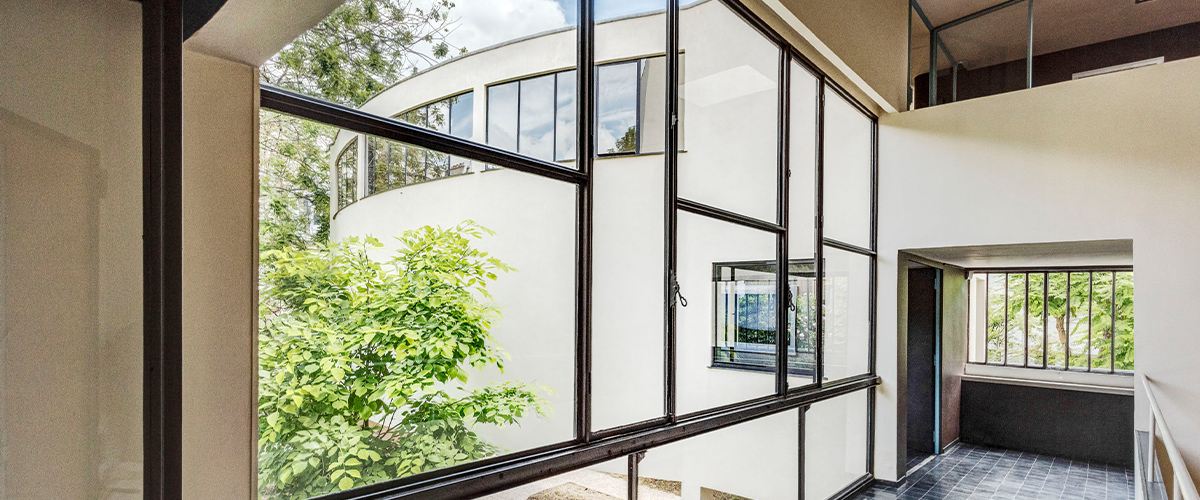 Subsequent History
Maison La Roche was bequeathed by La Roche to Le Corbusier for his Foundation. Maison Jeanneret was bought after Le Corbusier's death as a site for the Foundation's offices. Maison La Roche became a museum. The first restoration of the complex was carried out for the inauguration of the Le Corbusier Foundation in 1970. It was at this time that the facades were repainted in white.
Today this architectural ensemble, including the garden, is fully protected, and is part of the Transnational Series inscribed on the World Heritage List in 2016, the "Architectural work of Le Corbusier, an exceptional contribution to the Modern Movement." 
Maisons La Roche-Jeanneret, Paris
Photo : Olivier Martin Gambier 2016
© FLC/ADAGP

Maisons La Roche-Jeanneret, Paris
Photo : Olivier Martin Gambier 2016
© FLC/ADAGP

Maisons La Roche-Jeanneret, Paris
Photo : Olivier Martin Gambier 2016
© FLC/ADAGP

Maisons La Roche-Jeanneret, Paris
Photo : Olivier Martin Gambier 2016
© FLC/ADAGP

Maisons La Roche-Jeanneret
Photo : Olivier Martin Gambier 2010
© FLC/ADAGP

Maisons La Roche-Jeanneret
Photo : Olivier Martin Gambier 2010
© FLC/ADAGP

Maisons La Roche-Jeanneret
Photo : Olivier Martin Gambier 2010
© FLC/ADAGP

Maisons La Roche-Jeanneret
Photo : Olivier Martin Gambier 2010
© FLC/ADAGP

Maisons La Roche-Jeanneret
Photo : Olivier Martin Gambier 2010
© FLC/ADAGP
Maisons La Roche-Jeanneret, Paris
Photo : Olivier Martin Gambier 2016
© FLC/ADAGP

Maisons La Roche-Jeanneret, Paris
Photo : Olivier Martin Gambier 2016
© FLC/ADAGP

Maisons La Roche-Jeanneret, Paris
Photo : Olivier Martin Gambier 2016
© FLC/ADAGP

Maisons La Roche-Jeanneret, Paris
Photo : Olivier Martin Gambier 2016
© FLC/ADAGP

Maisons La Roche-Jeanneret
Photo : Olivier Martin Gambier 2010
© FLC/ADAGP

Maisons La Roche-Jeanneret
Photo : Olivier Martin Gambier 2010
© FLC/ADAGP

Maisons La Roche-Jeanneret
Photo : Olivier Martin Gambier 2010
© FLC/ADAGP

Maisons La Roche-Jeanneret
Photo : Olivier Martin Gambier 2010
© FLC/ADAGP

Maisons La Roche-Jeanneret
Photo : Olivier Martin Gambier 2010
© FLC/ADAGP