Maisons de Lège (Workers' Housing Development)
Lège, France, 1923-1925
Commission
Shortly after writing this letter, Henry Frugès, a sugar industrialist in Bordeaux, commissioned from Le Corbusier a group of houses for the workers at his sawmill in Lège.
In 1924, in order to test the building system for the Lège project, the architect built a prototype within the Bordeaux refinery, the Tonkin house owned by the industrialist himself. 
Another project was soon added to this, the Cité Frugès in Pessac, jointly designed with the architect's cousin Pierre Jeanneret and following the same principles of standardization and mass produced housing.
Project
The Lège project provided for six houses (3 "type A" houses and 3 "type B" houses), a bachelors' house (the cantine) intended for seasonal workers and including a canteen and a games area with a Basque pelota pediment.
Building began in August 1924 and ended in 1925 after many construction problems, due to the use of the "cement gun" and various structural weaknesses.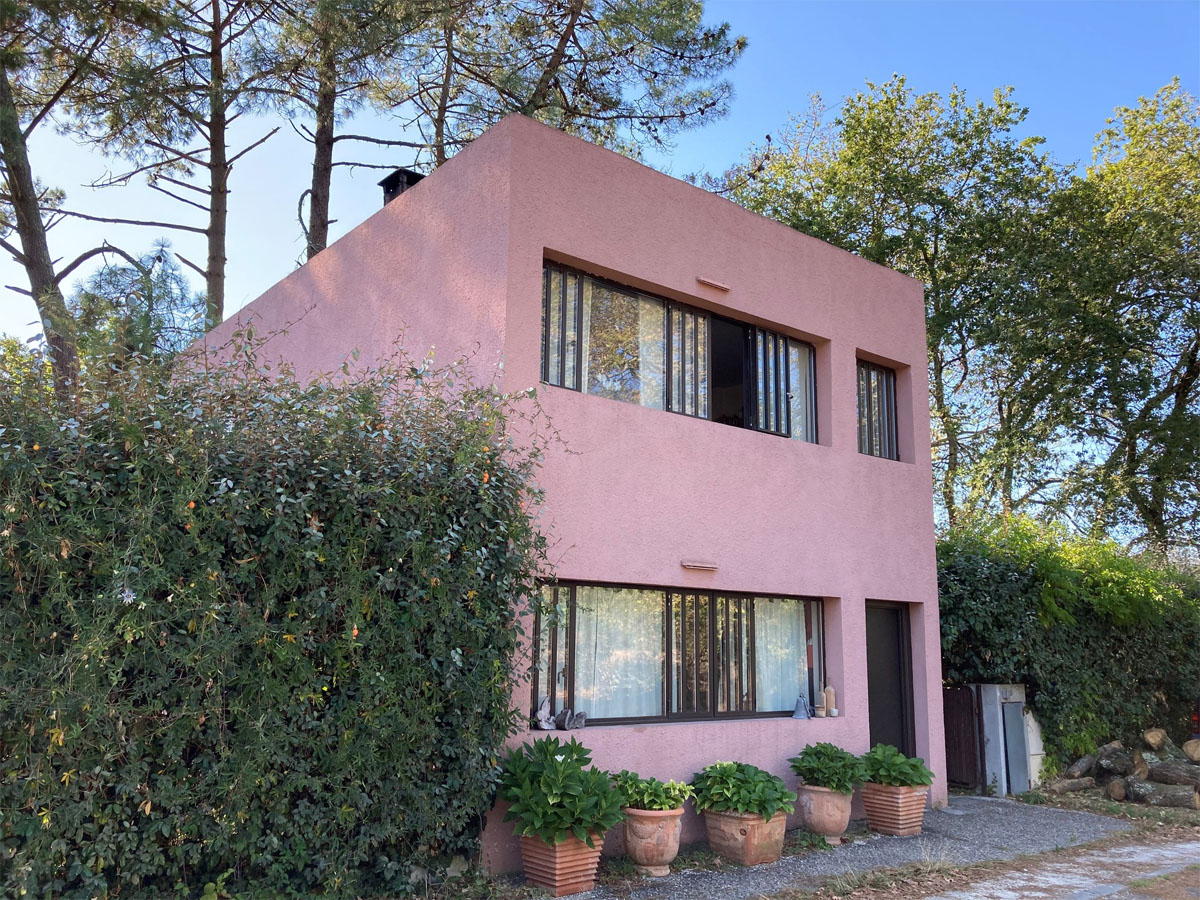 Maison et Cantine, Lège © FLC / ADAGP / Leslie Mozdan, Associationn des Sites Le Corbusier
Subsequent History
Following the 1930s economic crisis, Henry Frugès sold his factory and left for North Africa. The housing complex and the sawmill were sold to the Darbo family, who were forestry managers. During this period, the little housing estate was left to its own devices, with the houses undergoing major transformations: the flat roofs were changed into gable roofs, certain openings were closed, the interior layouts were modified, and lean-tos were built.
This ensemble obtained recognition for the first time in 1990. The six houses, the bachelors' house and the Basque pelota pediment were listed as historical monuments.
Since 1993, it has been the property of the Gironde Public Planning and Construction Office (HLM de Gironde Habitat) which initiated a campaign to renovate solely the houses. This work, carried out by the architect Jean-Luc Veyret between 1996 and 1997, aimed to restore the volumes and openings of the houses, for example by reinstalling the roof terraces. 
A new works campaign was carried out in 2012 by Pierre-Antoine Gatier, ACMH, for the "thermal improvement of the Le Corbusier residence", including in particular replacement of all the metal frames.
The cantine or bachelors' house, at present not accessible, belongs to the municipality of Lège-Cap-Ferret. It was the subject of a study prior to its restoration in 2016 with a view to opening it to the public. This project has not progressed since.
Maison et cantine, Lège
© FLC/ADAGP

Maison et cantine, Lège
© FLC/ADAGP

Maison et cantine, Lège
© FLC/ADAGP

Maison et cantine, Lège
© FLC/ADAGP

Maison et cantine, Lège
© FLC/ADAGP

Maison et cantine, Lège
© FLC/ADAGP

Maison et cantine, Lège
© FLC/ADAGP

Maison et cantine, Lège
© FLC/ADAGP

Maison et cantine, Lège
© FLC/ADAGP

Maison et cantine, Lège
© FLC/ADAGP
Maison et cantine, Lège
© FLC/ADAGP

Maison et cantine, Lège
© FLC/ADAGP

Maison et cantine, Lège
© FLC/ADAGP

Maison et cantine, Lège
© FLC/ADAGP

Maison et cantine, Lège
© FLC/ADAGP

Maison et cantine, Lège
© FLC/ADAGP

Maison et cantine, Lège
© FLC/ADAGP

Maison et cantine, Lège
© FLC/ADAGP

Maison et cantine, Lège
© FLC/ADAGP

Maison et cantine, Lège
© FLC/ADAGP