Villa Le Sextant
Les Mathes, France, 1934-1935
Commission
At the official opening of the Cité de Refuge on December 7, 1933, Albin Stuart Peyron, the son of its patron Albin Peyron, met Le Corbusier and discussed a project for a holiday home by the sea. After the purchase in August 1934 of land located in Mathes not far from Royan, Albin S. Peyron asked Le Corbusier in a letter dated December 12, 1934 to build him a "house abandoned for ten months in the year, but where we live for two months non-stop, at a time when we are in need of rest, health and comfort as well." He specified that "the kitchen, the outbuildings must be separated from the living rooms, the children also kept away from the terrace." The Peyron family spent their first holidays in the house in July 1935.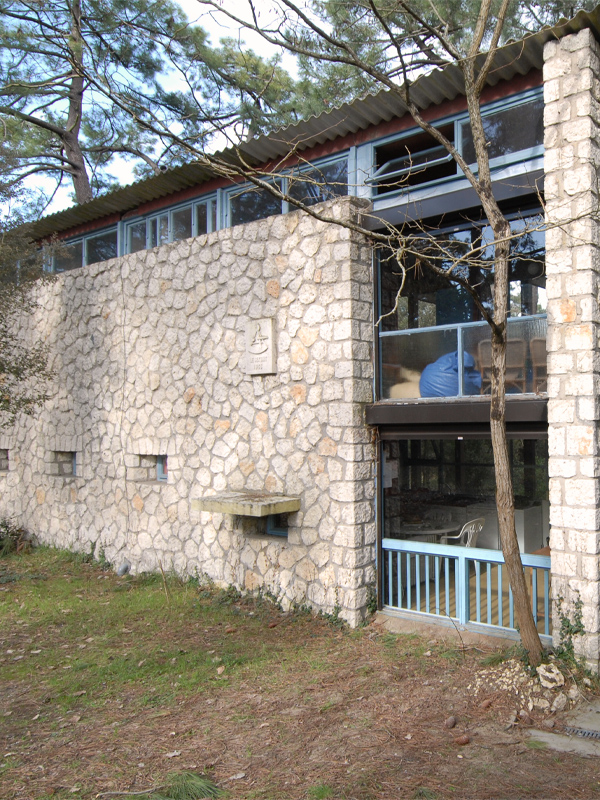 Project
For Le Corbusier, this project fitted in with his researches. As with the Errazuriz house and the Mandrot villa, he wanted to promote traditional, local materials such as stone.
The house has a rectangular plan. With the exception of the wall protecting the terraces, the garden facade is largely open to the landscape thanks to large sections of glass and a balcony. The plan of the street facade is quite the opposite. The terrace is open to the outside and there are small windows in walls of the rooms. On the ground floor is the kitchen, a bathroom and bedrooms. The whole floor opens onto a terrace. At its end, next to the kitchen, is a staircase leading to the terrace on the first floor. It is extended by a balcony leading to a large room which includes the parents' bedroom, a bathroom and the children's bedrooms. In the absence of an interior door, all rooms are accessible only from the terrace and the balcony. As the house was only occupied in summer, Le Corbusier chose to install two fireplaces instead of heating. Unlike traditional roofs, the roof is made of two slopes that meet towards the middle where a collector receives rainwater. The house has a cellar.
Le Corbusier designed the kitchen. He also designed a plaque representing a sextant, which was affixed to the street facade of the house. The materials of the facades are exposed stones (local rubble masonry). The frames, balcony and carpentry are in wood, the roof in Eternit, the chimneys in brick. The limited budget did not allow Le Corbusier to visit the site and monitor building work. The construction was entrusted to a local contractor, M. Beran, with whom Le Corbusier corresponded regularly.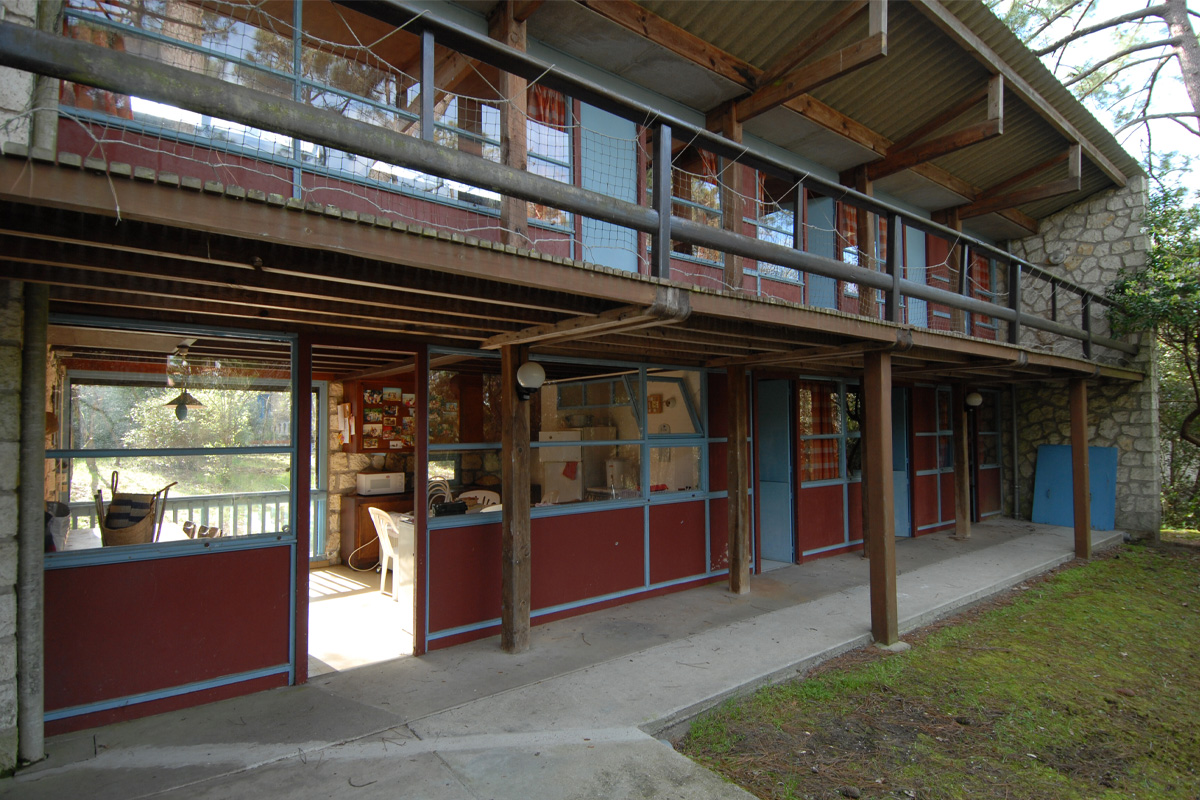 Subsequent History
Le Corbusier's last creation before the Second World War, the Villa Le Sextant is to this day still owned by the Peyron family. Regularly maintained, it is in a good state of conservation. The roof, having suffered damage during the Second World War,  underwent restoration in the years 1952-54.
Villa "Le Sextant", Les Mathes
© FLC/ADAGP

Villa "Le Sextant", Les Mathes
© FLC/ADAGP

Villa "Le Sextant", Les Mathes
© FLC/ADAGP

Villa "Le Sextant", Les Mathes
© FLC/ADAGP

Villa "Le Sextant", Les Mathes
© FLC/ADAGP

Villa "Le Sextant", Les Mathes
© FLC/ADAGP
Villa "Le Sextant", Les Mathes
© FLC/ADAGP

Villa "Le Sextant", Les Mathes
© FLC/ADAGP

Villa "Le Sextant", Les Mathes
© FLC/ADAGP

Villa "Le Sextant", Les Mathes
© FLC/ADAGP

Villa "Le Sextant", Les Mathes
© FLC/ADAGP

Villa "Le Sextant", Les Mathes
© FLC/ADAGP